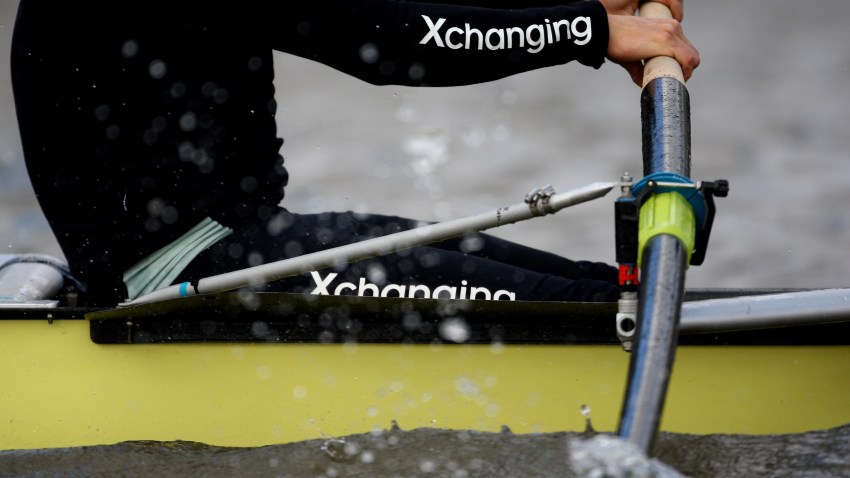 Sunday was a day of firsts for the University of Michigan women's crew and for Mike Teti, head coach of the University of California men's crew.
Michigan overtook defending champion Washington over the last 1,000 meters to win its first ever Women's Collegiate Varsity-8 Invitational Jessop-Whittier Cup at the 36th annual San Diego Crew Classic.
The Wolverines clocked 6:43.2 over the 2,000 meter Mission Bay course with Washington, a 14-time Jessop-Whitter Cup winner, finishing second at 6:45.83. Wisconsin was third in 6:47.24 followed by University of Southern California (6:48.49), Oregon State (6:49.65) and Washington State (6:52.25).
SportsWrap
The top sports headlines of the day
Teti, who coached the U.S. and Olympic National teams from 1996 to 2008 before becoming the first-year head coach of the University of California, watched his Golden Bears take control early and win its ninth Men's Collegiate Varsity-8 Invitational Copley Cup outdistancing defending champion Washington.
"I thought the Olympics were pretty important, but I didn't realize that California rowing was more important than the Olympics," said Teti. "It's serious business. It's a strong program. But I really enjoy the college environment. And I enjoying coaching kids where rowing isn't the main thing in their life."
California had won seven straight Copley Cups from 1999 through 2005, but had not won the last three years.
The Bears, who were second in their heat on Saturday to rival Stanford, had a one seat lead over Washington at the 500 meter mark, extended it to seven seats at 1,000 and then withstood a late Huskies rally, finishing at 5:51.8. Washington was second at 5:52.61 followed by Harvard at 5:53.95.
Stanford, the winner in 2006 and 2007, finished fourth at 5:56.34 followed by Brown (6:03.77) and Princeton (6:07.07).
"We didn't have such a good start yesterday," Teti said. "So they worked on it a little bit last night. But we had a little bit better today. They tried to execute today and did."
More than 3,500 athletes from more than 100 clubs, universities and colleges from across the United States participated in the two-day event on Mission Bay.
Copyright AP - Associated Press