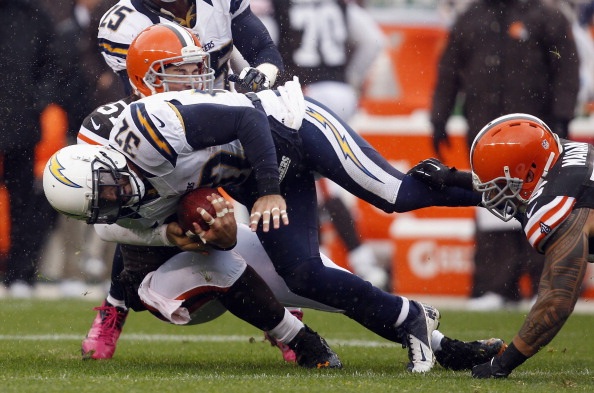 The Chargers have the shortest possible week in the NFL, from a Sunday game to a Thursday night game.
Some players see this as an advantage, some as a disadvantage. Head coach Norv Turner said players have responded well to the pressure in the past.
"It is a quick turnaround," Turner said. "I think our guys have responded extremely well. We moved really well yesterday in a walk-through format. Today we had a very fast practice. I was impressed with the way they responded. Our focus is obviously getting ready for the game. There are things that you'd like to spend more time covering from the last game, but that's hard to do."
SportsWrap
The top sports headlines of the day
Quarterback Philip Rivers says it forces the players to overcome soreness quicker.
"Mentally, because you have to be ready, that kind of speeds you up a little bit," Rivers said. "The guys probably won't feel as sore tomorrow as they normally would after two days just because they don't think they're sore because we have to go. So you will yourself to do it."
Running back Ronnie Brown says it will help them move past the last three painful losses quicker.
"It's a good opportunity for us to get the taste out of our mouths from last week," Brown said. "The good thing about that is that we get the opportunity to hit the field again to right that and get it out of your mind. You'd like to have a long weekend to get some rest, but at the same time you have to get out there and take care of business first."
Linebacker Donald Butler was named Defensive Player of the Week after the Chargers last game against the Chiefs, disagrees with Rivers and says soreness will definitely play a part.
"It's going to be very tough," Butler said. "Obviously guys are still sore today, will be tomorrow and most likely still will be on Thursday night. It is a part of the game and something you just have to take and run with."
The 3-4 Chargers kick off against the 1-6 Chiefs Thursday night at 5:20 p.m. at Qualcomm.