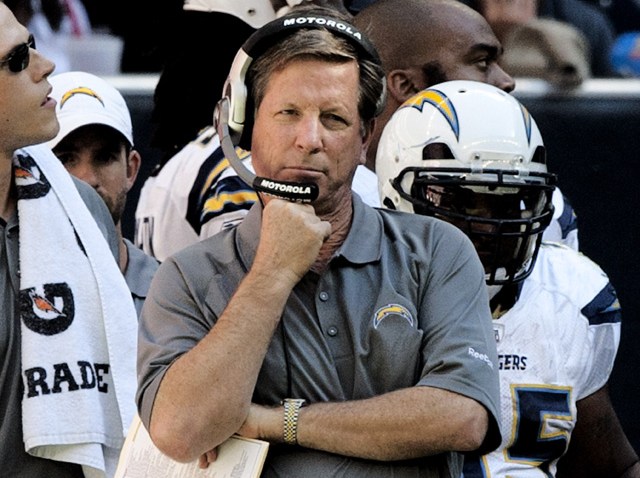 Lucas Oil Stadium opened in 2008. In their first 20 games there, the Colts went 19-1, the only loss coming last year when they pulled their starters after a quarter to prevent injuries and lost to the Jets. So, what the Chargers did to them on NBC's Sunday Night Football was truly remarkable.
San Diego beat Indianapolis 36-14. It's the worst loss Indy has suffered at home since 1997 ... the year before they drafted Peyton Manning, sticking the Chargers with Ryan Leaf. I suppose this would be considered payback.
The Bolts were dominant in every phase of the game. There are plenty of numbers to support that statement, but these are the most telling. San Diego intercepted Manning four times, returning a pair of them for touchdowns (Kevin Burnett ran 29 yards, Eric Weddle 41 yards). In his career, Manning has thrown at least four picks in a game three times. Two of them came against the Chargers.
SportsWrap
The top sports headlines of the day
Overall the Colts turned it over five times. The Chargers, none. Plus, the Bolts kickoff and punt coverage was tremendous, so it would appear the two things that killed them earlier in the season have been fixed.
The Chargers defense allowed only 24 yards rushing. Their longest running play was an eight yard scamper by Donald Brown. Philip Rivers had a nine yard run. He also had one of the most uneventful nights of the year. Philip only had to throw 23 times, completing 19 of them for 185 yards and, for the first time in 24 games, no touchdowns. Of course, when Mike Tolbert is running 26 times for 103 yards and controlling the clock behind an offensive line that just mauled the Colts defensive front seven, you don't need Rivers to save the day again.
The Chargers have now won four straight games. At 6-5, they have a winning record for the first time this season. Their remaining schedule includes just one game against a team with a winning record (at home against 7-4 Kansas City), three teams with three wins or less (vs. San Francisco, at Cincinnati, at Denver), and a revenge match at the Q against the 5-6 Raiders. They should win out. But, as several guys and their head coach told me after the game, they got back into contention by taking it one game at a time. They're not going to stop now.
The Chargers control their own destiny for the AFC West title. Their next four games will be played in December, a month where Philip Rivers has never lost as a starting quarterback. It's beginning to look a lot like Christmas ... and the playoffs.
P.S. -- A couple of injury updates. Vincent Jackson played one play and left the game with a calf strain. Turner said he doesn't expect Jackson to miss much time. Mike Tolbert injured his right hand and had it wrapped heavily in bandages after the game. He hurt it in the first half and played the 2nd half. He's not expected to miss any time.