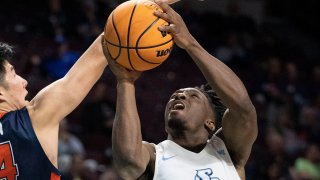 Joey Calcaterra had 20 points as San Diego beat Pepperdine 74-67 in the West Coast Conference Tourney first round on Thursday night.
It was the Toreros' first WCC Tournament win since 2019.
Yavuz Gultekin had 14 points for San Diego (15-15). Marcellus Earlington added 13 points and 13 rebounds. Jase Townsend had 11 points.
Houston Mallette had 12 points and six rebounds for the Waves (7-25). Mike Mitchell Jr. added 12 points, 10 rebounds and eight assists. Jan Zidek had 10 points.
San Diego will take on Portland Friday at 8:00 p.m. The two teams split their regular season series.