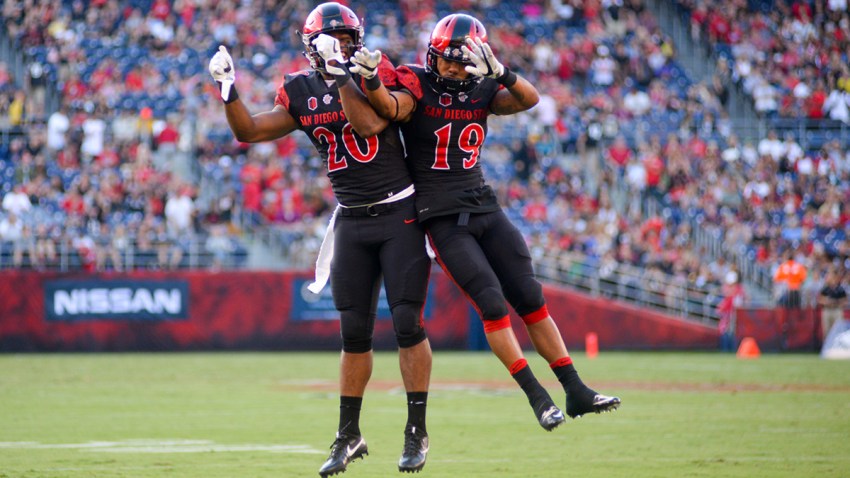 The San Diego Aztecs have earned their second consecutive title as the top football team in the Mountain West Conference by defeating the cold weather and the Cowboys with a 27-24 victory over Wyoming.
It was similar score to last year's Mountain West Conference Championship game, where the Aztecs defeated Air Force 27-24.
It looks like 27 is the Aztecs lucky number or maybe its 19? Number 19, and the pride of SDSU's Donnel Pumphrey finished the night with 110 yards, rushed 25 times and had one touchdown, to help lead the Aztecs to their victory.
SportsWrap
The top sports headlines of the day
It wasn't all Pumphrey though; the Aztecs found a lucky penny in the third quarter. Rashad Penny ran in two six yard touchdowns to put the Aztecs up 24-10.
Penny rushed for a total of 117 yards, marking is fifth 100-yard rushing game. He finished the night with 13 receiving yards and 243 all-purpose yards for SDSU. Fortunately for Aztec fans Penny still has another year with San Diego State, being that he is only in his junior year.
While the Aztecs offense had an explosive night their defense was on their A game as well. Forcing three Cowboys turnovers and racking up 6 sacks. In addition they were able to hold the Wyoming offense to 0-3 on fourth down.
San Diego State has now earned their third title in five years, their twenty-first overall league championship in program history, and they are the first road team to win the Mountain West Championship since 2013 when the league moved to division play.