Local Olympian kayakers Tim Hornsby and Carrie Johnson both made history on Friday when they advanced to the first ever Olympic semifinals in men's and women's K-1 200m, respectively.
However, that's as far as they advanced.
In the heat, Hornsby was around a second and a half behind Britain's Ed McKeever. In the semifinal, he was just over two seconds behind while placing last.
La Jolla Carrie Johnson was eliminated with a 43.321 finish, well behind Britain's Lisa Carrington's 40.528. See results here
Medals were decided Friday in BMX competition and the American team failed to make the podium in either event.
Maris Strombergs of Latvia won his second straight Olympic gold medal in BMX . Former world champion Mariana Pajon won the women's BMX competition, giving Colombia its first gold of the games.
Connor Fields and David Herman rode in the semifinals. Fields and Herman both live and train at the Chula Vista Olympic Training Center, home to an Olympic-sized BMX track.
In the women's competition, Brooke Crain advanced to the finals however Alise Post's competition ended with a crash in the semifinals.
Crain sent a shoutout to injured teammate Arielle Martin (see right) which Martin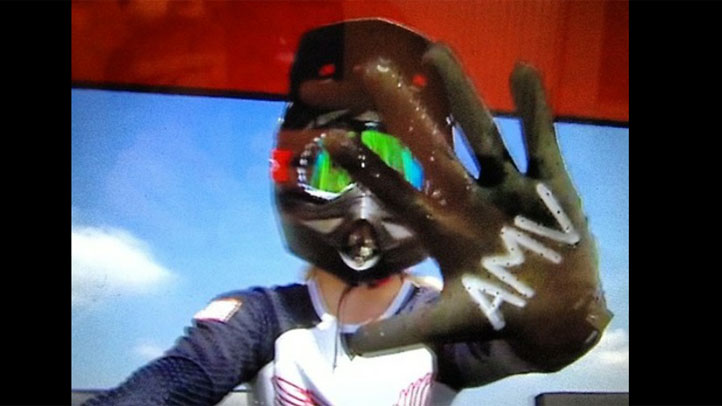 retweeted and followed up with this message: "@alisepost11 @cfields @zHermanator @niclong64 proud to have trained alongside you and for the exposure you gave our sport today."
While in Track and Field, Chula Vista OTC athlete Brad Walker will compete in the men's pole vault final and Keshia Baker will compete in the qualifying heats for the 4x400m relay.
Baker is currently earning her master's degree in the joint public health and social work program in SDSU's College of Health and Human Services.
Get Olympic updates:iPad App | iPhone App | Android App | Facebook| Twitter | Google+ | Instagram | RSS | Text Alerts | Email Alerts
Published at 3:13 PM PDT on Aug 9, 2012 | Updated at 10:16 PM PDT on Aug 10, 2012