Eastlake Little League All-Stars won their first game of the Little League World Series, beating Michigan 3-0.
Eastlake's Grant Holman pitched a no hitter – the first for California in the competition since 1993 according to ESPN.
After a scoreless game, catcher Patrick Archer hit a line drive in the 7th inning to bring in two runs.
"I thought if he throws another fast ball I'll just hit it hard and I did," Archer told ESPN after the game.
Archer's hit was followed by an RBI single from Micah Wiggs.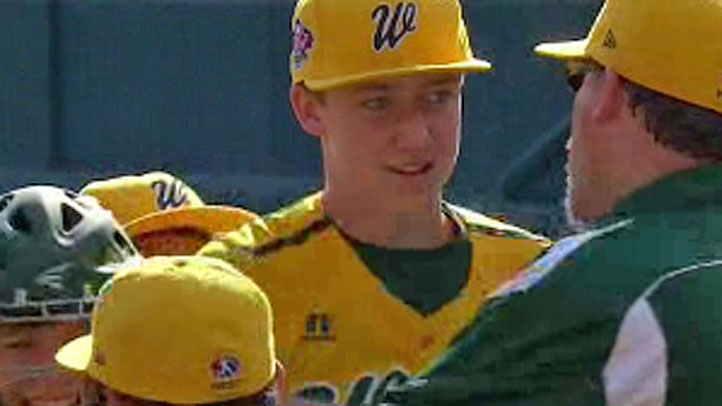 Before the runs scored in the 7th, it was a pitcher's duel with just one hit allowed by Michigan.
Holman (pictured right) told ESPN it wasn't his first no-hitter but he said the defense helped him secure the win.
"Knowing that we're still in the winner's bracket just feels really good," Holman said.
Fans of the little league team shared their excitement on social media including hometown celebs actor/television host Mario Lopez and singer Jessica Sanchez.
"So proud of my hometown," Sanchez posted to Twitter.
Lopez posted, "So proud.. On a roll boys! Bring it home...#619"
The Western Regional Championship team roster includes Holman, Archer, Wiggs, Jake Espinoza, Michael Gaines, Kevin Bateman, Rennard Williams, Dominic Haley, Charly Peterson, Giancarlo Cortez, Nick Mora and Ricky Tibbett.
The team will face the winner of the Newark vs. Urbandale game Sunday at 2 p.m. PT