When a guy wearing number 48 for the Chargers broke up the middle to sack Cardinals quarterback Drew Stanton in the 2nd quarter of Saturday's preseason game in Arizona a whole bunch of people thought the same thing:
Great play! Who the heck is that guy?
That guy is Nick Dzubnar and he might be around for a while so learn how to pronounce his name (it's Duh-Zub-Nar, by the way). Nick is an undrafted rookie from Cal Poly-San Louis Obispo and the Mustangs all-time leading tackler.
He came to San Diego with the goal of working his way on to either the 53-man roster or the 10-man practice squad. He plans to do that with one simple approach.
"Getting to every ball," said Dzubnar. "I want to make every play. I want to make every tackle. I want to outwork everyone. I want to out-hustle everyone. That's obviously what led to my career in college success and hopefully it can bring me success here in the NFL."
That attitude is a good way to make yourself a fan favorite fast and it's something he's had more or less his entire life.
"It started early when I was playing ice hockey. My dad raised me to be a hard worker."
Wait. Did he say ice hockey?
"It's related to hockey but I was able to transfer it over to football."
Dzubnar grew up in Mission Viejo, CA, as a defenseman that not only enjoyed the physical nature of the sport, but seemed to take the dump-and-chase as a personal insult. You can listen to him explain his playing style on the ice below:
Nick Dzubnar Takes Hockey Mentality To Football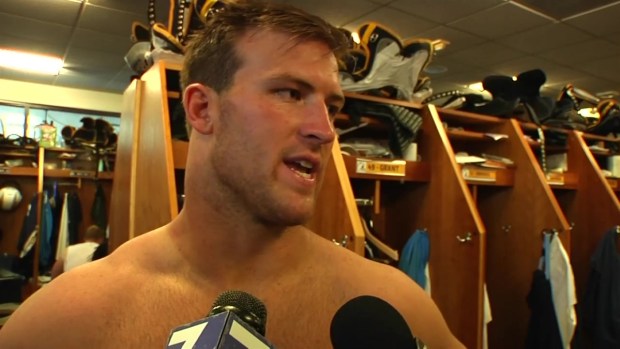 While Dzubnar still thinks he was better at hockey than he is at football it's looking like his sports calling is less Ray Bourque and more Ray Lewis. That doesn't mean he doesn't long to get his blades on the ice again, though.
"I still miss it every single day,"Dzubnar says. "I really do love that sport. But, obviously, this is working out for me right now."
Plus, now that the Gulls are back in San Diego, Nick won't have to go far if he wants to get his hockey fix.
"Maybe if this career ends I may jump on over there and see if I can get some ice time."
One sport at a time, big guy. Just give this pro football thing a real shot first.