An Olympic silver medal is something to be proud of. Unless you're this Canadian hockey player.
U.S. women beat Canada Thursday 3-2 in the first shootout in an Olympic women's hockey final, snapping the Americans' 20-year gold medal drought and ending Canada's bid for a fifth straight title.
Canadian defender Jocelyne Larocque was so upset she yanked off the silver medal immediately after it was placed around her neck during the medal ceremony.
The other 22 Canadian players were left stunned or in tears. Larocque held the medal in her hand during the rest of the ceremony. An official from the International Ice Hockey Federation reportedly told her after the ceremony that there are "legal" reasons why she can't refuse to wear the medal.
Later, Larocque apologized for removing her medal and called being on the podium a "great achievement."
"In the moment I was disappointed with the outcome of the game, and my emotions got the better of me," Larocque said in a statement. "I meant no disrespect - it has been an honour to represent my country and win a medal for Canada."

Larocque was criticized on Twitter for poor sportsmanship, while some felt sorry for her.
Nope, not interested in silver pic.twitter.com/H3fMW7ZfRW

— Pete Blackburn (@PeteBlackburn) February 22, 2018
So Jocelyne Larocque Of The Canadian female Olympic hockey team is a #PoorSport! You taking off your silver metal as soon as they put it on you is really good for the kids that look up to you. You should be showing them good sportsmanship!!! #USA#Gold

— Jon J. (Yawn) (@NintendoLocoFan) February 22, 2018
Feeling a bit sorry for Jocelyne Larocque. OK, it wasn't the best idea to do that but in the final of a team sport like Ice hockey, you don't win a silver medal, you get handed it because you lost. She was clearly crushed at the defeat. #USAvCAN#Olympics#TeamCanada#USA

— Dougie Brimson (@dougiebrimson) February 22, 2018
@HC_Women very disappointed in Jocelyne Larocque's display of incredibly un-Canadian sportsmanship and being a poor loser. Taking off her medal immediately after being presented with it.

— LeslieAnneO (@LeslieAnneOsh) February 22, 2018
Tough loss for Canada, but this made my night. I think Jocelyne Larocque just became my favorite female hockey player.#USAvsCAN#PyeongChang2018#Olympics#Hockey#OlympicHockey#CAN#TeamCanada#JocelyneLarocque#BadAsspic.twitter.com/dhqA0Qqa5A

— Jacob Prusia (@JPrusia) February 22, 2018
What a baby! #teamcanada Rules are rules: After shunning silver, Jocelyne Larocque ordered to wear medal /via @globeandmailhttps://t.co/MwRGijQao2

— Jennifer Hart (@domestic_abroad) February 22, 2018
Team USA's victory came 38 years to the day after the men's famous "Miracle on Ice" win over the Soviet team in group play at Lake Placid.
On Thursday, Jocelyne Lamoureux-Davidson scored the shootout winner for the Americans.
"There's not a lot of words that can describe how you feel," Canada coach Laura Schuler, who was part of the team that took silver in Nagano 20 years ago, told CBC. "It was a great game of hockey. It's what we expected: back and forth hockey."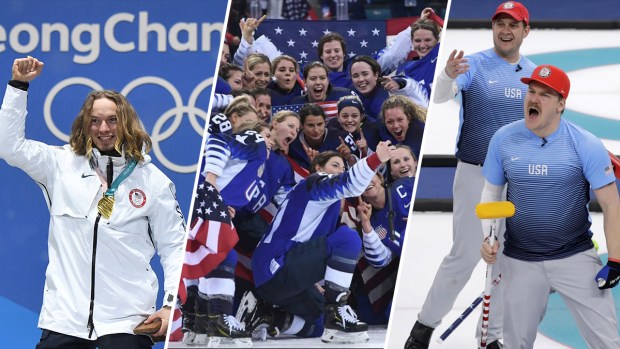 Feb. 22 Olympics Photos: US Wins Hockey, Advances in Curling