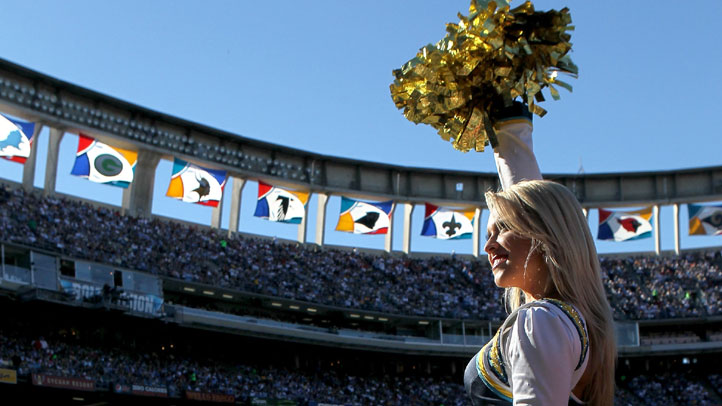 For years it's been a stand off. The Chargers and Mayor Jerry Sanders facing off over a new stadium to keep the team in San Diego.
There's been the constant threat of a move to a new stadium in Los Angeles. There's been the reality of the tough economic times. But there has always been hope that something will get done and fans will only have to worry about Norv leading the Chargers to a 2-4 start.
It appears there may be some "possible" good news. "Possible" because neither side is saying it's the answer they've been looking for. But, both sides pretty much agree on it, at least some of it.
The idea has been mentioned before, but never gotten much steam. But here it is again under different circumstances. Mostly, the looming NFL labor dispute and Governor Jerry Brown wanting to pull redevelopment money from San Diego.
Here's the "possible" solution.
Redevelop the Qualcomm site into apartments, condos, shopping centers.. whatever makes a lot of money and brings a lot of taxes to the city to help pay for the new $800 million downtown stadium.
Wait, there's more. Redevelop the Sports Arena land too.
Chargers special counsel Mark Fabiani says it makes sense because both properties are valuable but they currently cost taxpayers about $15 million a year to operate.
"There's a huge loss there, you own the land but you can't do anything with it and it costs you money and that just shouldn't be that way,"Fabiani told NBCSanDiego.
Mayor Sanders appears to agree, at least in part.
"The Sports Arena site is not so clear-cut, we have an operator there right now, but the Qualcomm site has great potential to fund a stadium by turning it into something else,"said Mayor Sanders' director of communications Darren Pudgil.
Is this why Chargers owner Dean Spanos is meeting with Mayor Sanders in the next two weeks? Neither side is saying exactly what they'll be talking about but Fabiani says it'll probably include the redevelopment issues involving Governor Brown and the "possible" NFL lockout.
But Pudgil says progress is certainly being made when it comes to the issue of finding a stadium solution.
"Something that makes sense for the Chargers and the taxpayers,"Pudgil said.
Ultimately, it'll be up to the voters to approve or deny the final proposal. Pudgil says the mayor is hoping to have it on the ballot next year.
If it is on the ballot, maybe voters will be more likely to approve it, if Norv doesn't start off the season with a 2-4 start, if there's a season at all.
Let us know what you think. Comment below, send us your thoughts via Twitter @nbcsandiego or add your comment to our Facebook page.