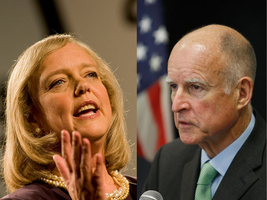 With just one day to go before voters head to the polls, the candidates for governor and Senate make their final campaign stops.
Democrats Jerry Brown and Sen. Barbara Boxer announced late Sunday they will wrap things up Monday evening in the Bay Area. Both Brown, the gubernatorial candidate, and Boxer are scheduled to appear at a rally in Oakland's Jack London Square starting at 5:15 p.m.
Brown was in San Diego early Monday. He will make a stop in downtown LA before heading north to Salinas and Oakland. Whitman was in Menlo Park early Monday. She was scheduled to appear in Woodland Hills later Monday.
Complete Coverage: Decision 2010
Senate Republican candidate Carly Fiorina spent lunch time Sunday in Fresno and ended her day at an event in Walnut Creek. Republican gubernatorial candidate Meg Whitman also spent the weekend in Southern California. She traveled from place to place on a bus she called the "Take Back Sac Express."
About 100 supporters crowded into Brown's office in Oakland's warehouse district during the weekend, chanting "Jerry, Jerry," as the candidate used Biblical references to describe good times and lean ones. He said the recession and California's persistent budget problems have left the nation's most populous state in a perilous financial situation.
"We've got some tough times coming ahead. We've got some very tough decisions. That's just the way it is, and ultimately you've got to live within your means," he said to supporters, some of whom brought their babies and dogs. "That's certainly going to be the spirit of the next year if I'm elected governor."
Under cloudy skies in Stockton's Victory Park, Brown later addressed a crowd of about 200, including about 40 firefighters from the Stockton Fire Department wearing pink shirts for breast cancer awareness month.
Brown left the rally to catch a chartered jet to the Central Valley city of Merced, where he was beginning three days of nonstop campaigning that will take him to nearly every region of the state.
In Southern California, Whitman rallied about 200 supporters sitting on bleachers overlooking a round stage decorated with pumpkins, apples, and mums at the Orange County fairground. A red barn and a giant California flag hanging from a crane served as backdrops.
She said a Whitman victory would mean the beginning of "the process of bringing more good jobs back to California."
"You know, I'm a proven job creator, that's what I've done for my entire career," Whitman said. "And Jerry Brown has been part of the war on jobs in Sacramento for 40 years and it's going to end on Tuesday."
Whitman, who has spent $142 million from her personal fortune in the race, noted that California has an opportunity to install the first woman governor in state history. She also had events planned Saturday in Vista in San Diego County and a local business in Sacramento.
The three full days of campaign events, concluding Monday evening for both candidates, are an attempt to connect with voters and rally their core supporters after weeks of television ads that have been heavy on attacks.
Which candidate is best to revive the poor economy and break the political paralysis in Sacramento have been the race's dominant themes.
A month ago, public opinion polls showed the gubernatorial race too close to call. But Brown appears to have gained the momentum in the final weeks of a campaign that has turned increasingly negative.
A Field Poll released Thursday showed the Democratic state attorney general with a double-digit lead over Whitman among likely voters, 49 percent to 39 percent.
The front-runner status gave Brown the luxury to spend most of the week away from the media, while Whitman, the billionaire former chief executive of eBay, endured a rough week of appearances.
She was booed at first lady Maria Shriver's women's conference when she refused to stop airing attack ads against Brown, told a television talk show that her former housekeeper should be deported -- then switched to her previous position the next day by saying the matter should be left to federal authorities -- and encountered a boisterous and sometimes heckling crowd of protesters at a Friday campaign stop.
The first-time candidate is counting on Republican anger over economic and spending issues to propel her past Brown, but, like any Republican running a statewide race in California, faces a steep deficit in voter registration. Democrats maintain a 13 percentage point advantage over registered Republicans.
Whitman had hoped to woo independents, who account for one in five California voters, but the Field Poll showed they are breaking Brown's way, as are women and Latinos. She has dismissed the recent survey data.
"Our polls show this is a dead heat and if we in a dead heat on Tuesday, we win this whole thing," Whitman said Saturday alongside GOP candidates Mike Villines for insurance commissioner, Tony Strickland for controller and Mimi Walters for state treasurer.
Vieda Cantacessi of Laguna Niguel said she turns 61 on Halloween and would like to see a Whitman victory for her birthday present.
"I think Jerry Brown hasn't held a job in his whole life other than running for political office and all he wants to do is same old, same old," said Cantacessi, who cheered Whitman on Saturday. "He started the problem of the pension crisis in this state with collective bargaining and now he wants more of the same. Been there, done that, it's time for a breath of fresh air."
In addition to his own fly-around, Brown is receiving significant help from a massive union effort, spearheaded by two of the state's largest unions and projected to reach some 4 million voters.
Some 30,000 volunteers will be working for the California Labor Federation, while another 5,000 union workers from the Service Employees International Union will knock on roughly 500,000 doors and make nearly 140,000 phone calls.
Union leaders said they are motivated by Whitman's proposal to cut the state work force by 33,000 workers and her targeted tax cuts for businesses and the wealthy individuals, which they say would mean less money for public schools.
"I think this is probably one of our biggest efforts," said Eliseo Medina, secretary-treasurer for the SEIU. "The situation now is unlike any other that we've faced."
Copyright AP - Associated Press