Before all the ballots had even been counted, two candidates had already assumed victory.
City Councilman Carl DeMaio received 32 percent of the vote, Rep. Bob Filner won 30 percent of the vote, Assemblyman Nathan Fletcher won 24 percent of the vote and District Attorney Bonnie Dumanis won 13 percent of the vote.
Special Coverage: Decision 2012: Get results here
The top two, DeMaio and Filner, will go on to run in the November general election.
By the end of the night on Tuesday, DeMaio gave what appeared to be a victory speech, thanking supporters and looking toward a future in what looks to be a majority of conservative city councilmembers.
Perhaps in reference to his Roadmap to Recovery economic plan, DeMaio used a series of allusions to express how San Diego will "step on the gas" and emerge from a "lost decade."
DeMaio faced strong opposition from labor groups throughout his campaign. Local labor leader Lorena Gonzalez spoke strongly against the conservative candidate after numbers showed DeMaio's main platform goal -- Prop. B -- in the lead.
"I am confident that in November, we will not have Carl DeMaio as mayor," Gonzalez said.
Filner, the only Democrat in the non-partisan race was scheduled to spend election night at a Democratic gathering at Stout Public House, but did not show up. Later, he appeared at Golden Hall confident that he had made it to the runoff.
"I'm looking forward to getting into the runoff and winning this election," Filner said.
Fletcher remained positive through the evening, though he never once gained an edge over Filner like many projected.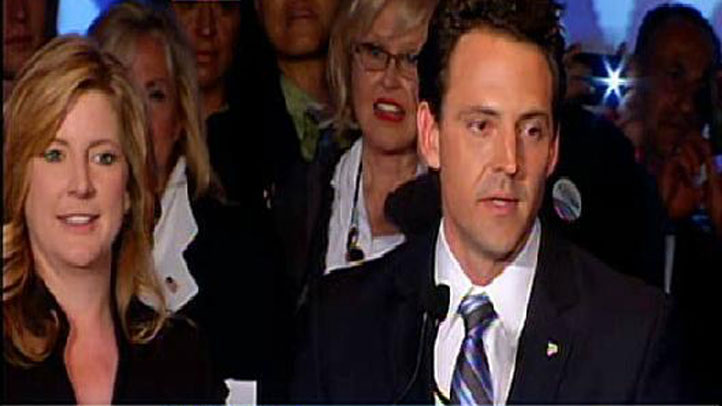 At about 10:30 p.m. Tuesday night, when results continued to show him in third place, Fletcher took the stage as a raucous crowd of supporters chanted his name. He thanked them for taking a stand "against the political machine."
Regardless of the results, he said, he was touched by the momentum gained during his campaign.
"We've built a team that has the power to transform the city," he told the crowd. "You've made this a great team and I am honored to be a member of your team."
Dumanis was escorted by her mother as she cast her vote at the Registrar of Voters early Tuesday morning.
Dumanis trailed in last for most of her run for mayor, even though she is generally recognized as a strong candidate.
"Sh
e entered the race too late," said conservative political analyst Joseph Perkins. "The other candidates got financial support and big endorsements. By the time she arrived it was much too late."
By the end of the night on Tuesday, she didn't let the results sour her taste for public service.
"I'm proud of the campaign we ran, we ran a positive message, different than what people have seen and I think that's a message of leadership."
Click here to watch Dumanis' response in an NBC 7 interview.
Follow NBCSanDiego for the latest news, weather, and events:iPad App | iPhone App | Android App | Facebook| Twitter | Google+ | Instagram | RSS | Text Alerts | Email Alerts