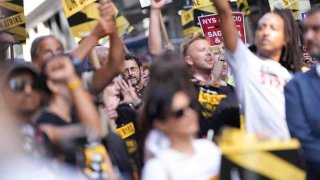 The Writers Guild of America is expected to resume talks with Hollywood studios Wednesday, more than four months after writers went on strike after failed contract negotiations, the union said Monday.
"You might not hear from us in the coming days while we are negotiating, but know that our focus is getting a fair deal for writers as soon as possible," the guild said in a message to its members.
"In the meantime, please continue to demonstrate your commitment and unity by coming out to the picket lines — for yourselves and fellow writers, SAG-AFTRA, other unions' members, and all those in our community who are impacted by the strikes," the guild said.
The talks are expected to "last several days" and the Alliance of Motion Picture and Television Producers is not expected to have revised its previous offer from August, a source familiar with the negotiations told NBC News.
AMPTP did not immediately respond to a request for comment. AMPTP represents studios, streaming services and production companies in union negotiations. (The group represents NBCUniversal, the parent company of NBC News.)
For more on this story go to NBCNews.com.