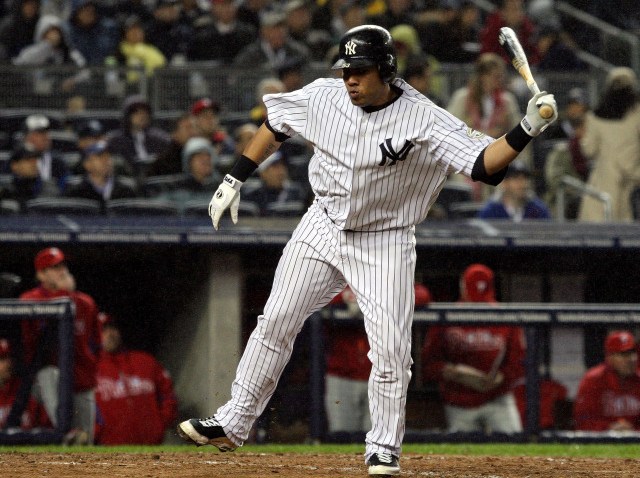 Is it possible for the team that's made more World Series appearances than any other to have jitters about being in the Fall Classic? Quite possibly, if you base your answer on watching the Yankees flail about the field in Game 1.
It's something of an oddity that this Yankees team has so little World Series experience. This is their seventh trip in the last 14 years, but they have very few players who have played this late into October. The four who were in Wednesday night's lineup -- Derek Jeter, Johnny Damon, Jorge Posada and Hideki Matsui -- accounted for all six hits against Cliff Lee. The first-timers, both in the lineup and on the mound, found less success which begs the question of if nerves caught up with them at the wrong time.
It seems like a ridiculous notion, but think about how many awful at-bats the Yankees turned in on Wednesday. Think about the miserable relief work turned in by Phil Hughes, David Robertson and Brian Bruney compared to Damaso Marte, who pitched for the 2005 Chicago White Sox. The Yankees never looked comfortable, confident or particularly competent in Game 1. More than anything, they looked like a bunch of guys who haven't been there before.
Of course, the theory of first night nerves falls a bit flat when you throw Lee (and CC Sabathia, for that matter) into the equation. It was his World Series debut as well, and he seemed to have no trouble at all adapting to life on baseball's biggest stage. He looked good enough to dominate the steeliest group of veterans to ever take to a diamond, but there's still something curious about the difference between the way the Yankees who have been here before played compared to their less experienced teammates.
The easiest way to figure out if there's anything to this notion is to see what happens on Thursday night. If Mark Teixeira and Robinson Cano look as bad against Pedro Martinez as they did against Lee, it probably means that there's another, better explanation than opening night jitters. But if the at-bats get a little more patient and the relievers are a little less wild, we may be able to chalk Wednesday night up to acclimating to new surroundings.
Or to the fact that Cliff Lee is one damn fine pitcher. Either way, we'll find out soon enough.
Josh Alper is a writer living in New York City and is a contributor to FanHouse.com and ProFootballTalk.com in addition to his duties for NBCNewYork.com.
Copyright FREEL - NBC Local Media