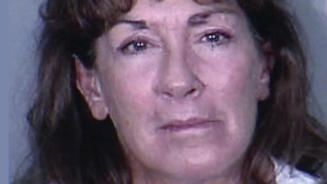 A drug and alcohol counselor who drove two miles through a Southern California community with a dying man on her windshield was sentenced Thursday to 55 years to life in prison, according to the Los Angeles County District Attorney's office.
Sherri Lynn Wilkins, 53, was convicted in February of second-degree murder, hit-and-run and DUI in a crash that killed 31-year-old Phillip Moreno.
Moreno, who was walking near Torrance Boulevard near Madrid Avenue on Nov. 24, 2012, was hit so hard that he flipped onto Wilkins' car and punched a hole through the windshield. Wilkins drove two miles with Moreno still alive and embedded in the windshield of her Mitsubishi Eclipse before she was brought to a stop by a witness and detained until police arrived, according to the district attorney's office.
"Ms. Wilkins demonstrated an extraordinary callousness in fleeing the scene and trying to shake Mr. Moreno's body off her car," said Superior Court Judge Henry Hall. "This is a callous murder, not an unfortunate act."
Moreno's family said one of the witnesses reached into the vehicle and removed the keys from the ignition. His family described the witnesses as "angels" for trying to help.
The counselor said in court that she kept driving because she panicked.
Wilkins testified during the trial that she'd consumed three airplane-size bottles of vodka, a can of Budweiser beer and Clamato before starting to drive. She also said during that trial that she had been "self-medicating" while waiting for knee-replacement surgery.
Prosecutors said that Wilkins' had a blood-alcohol content level nearly twice the legal limit when she struck Moreno.
She apologized in court Thursday to Moreno's family members.
"I am sorry for the pain I caused you," Wilkins said. "It hurt so many people."
The CEO of Twin Town Treatment Center, where Wilkins worked, said she cleared a background check and received positive reviews from patients.
In 2010, Wilkins was charged with DUI and leaving the scene of a crash that caused damage to either property or a vehicle, according to online court records. The charges were dismissed in 2011, records show. She has two prior convictions for burglary, according to court records.
The judge said he considered her prior record.
"Ms. Wilkins is not what we normally see," Hall said. "She's not a classic violent criminal. But you have to evaluate her history. She had an insatiable desire to become intoxicated."
Wilkins' attorney said she would appeal, according to the Associated Press.

Copyright AP - Associated Press