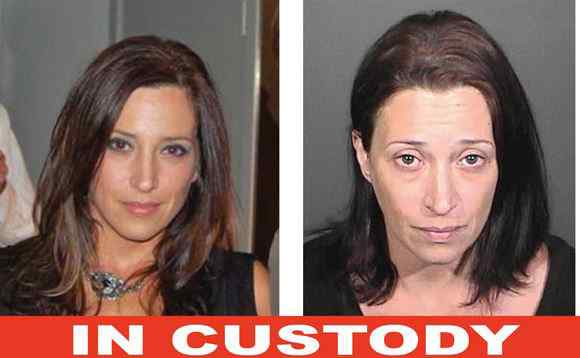 A woman's jet-setting lifestyle appears to have ended last month when she was charged in an identity theft investigation that found she used her good looks to prey on people through real estate and dating websites, Los Angeles County Sheriff's deputies said.

Maria Christina Johnson, 43, was arrested April 28 at a well-known luxury hotel in Santa Barbara County, where she was staying under the name of one of her victims, officials said. She has pleaded not guilty, prosecutors said. She was being held under one of her aliases at a jail in Lynwood awaiting her next court hearing scheduled for May 11, online jail booking records show.
She's being held under one of her aliases, Maria Hainka, at a jail in Lynwood. Investigators accuse her of orchestrating prolific identity theft for years.

The Washington state native had "no legitimate source of income and lists her occupation as a dog trainer, yet appeared to live the high-dollar lifestyle of the café society entirely off stolen identities," according to a Los Angeles County Sheriff's Department news release.

Johnson, who also goes by Maria Hendricks, Gia Hendricks, Maria Christina Gia, or Maria Hainka, has previously been convicted for fraud in cases dating back to 1997, officials said.
She was being held on $2 million bail. It was not immediately clear whether she had an attorney.
Investigators found that Johnson made use of her good looks on dating websites and home rental websites to meet her victims. She allegedly gained access to her victims' homes to steal identifying information, opening lines of credit without their permission and changing the victim's mailing address to take control of their identity.
"Once she gleaned information about the victim's personal connections, she moved on to steal the identities of their relatives and friends," the news release said.
Johnson allegedly moved into high-end hotels, where she would charge thousands of dollars under her assumed identity. Detectives say she tried to buy a car during one stint at a hotel; she allegedly transferred a cell phone number to her own to complete a deal.
"No one was immune from being exploited," deputies said.
Deputies say she also targeted real estate brokers, to view luxurious homes — possibly to find new victims — and in one instance to steal the identity of the real estate broker.
She was arrested after a Southern California High Tech Task Force Identity Theft Detail investigation, which found she incurred losses of at least $100,000 at the Santa Barbara hotel where she was arrested. The task force is led by the LA County Sheriff's Department, working with the FBI, Homeland Security and other local agencies.
Johnson was arrested in 2011, accused of posing as the wealthy owner of a modeling agency and running up nearly $10,000 in charges on the stolen credit card of a man she met in a Hermosa Beach bar, according to the Torrance Daily Breeze.