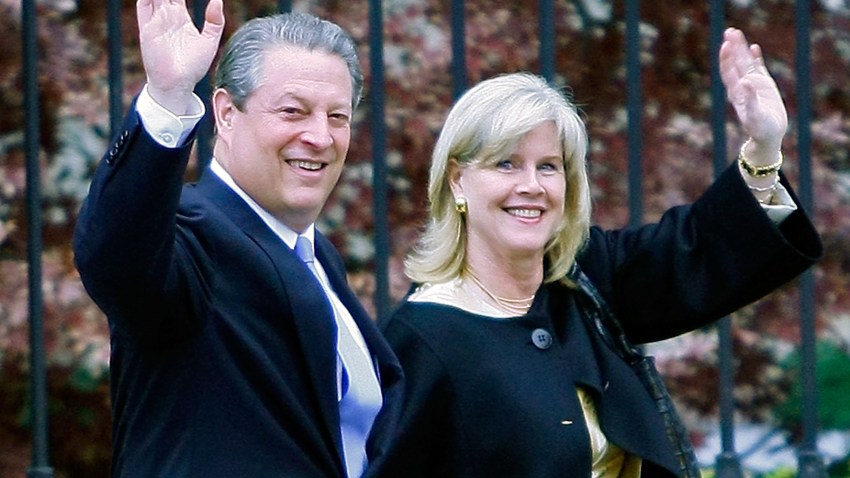 Even cynics were startled when former Vice President Al Gore and his wife Tipper announced Tuesday that they were separating by mutual consent. While the rocky marriage of Gore's former running mate Bill Clinton to Hillary Clinton had long since become headline news, the Gores were best known for their famously passionate public smooch at the 2000 Democratic Convention.
High school sweethearts, journalistic colleagues, Tennessee royalty and, in 2000, very nearly president and first lady, Al and Tipper Gore had an amazing ride in their 40-year marriage. Why they've decided to split after all this time has become a topic of national discussion, and even within their inner circle.
Speaking with Meredith Vieira on TODAY Wednesday, People magazine's Washington correspondent Sandra Sobieraj Westfall said she interviewed a dozen Gore family friends in the wake of Tuesday's announcement. And those friends told her they might have seen the writing on the wall if they had looked close enough.
"They hadn't seen it coming, but [said] if they thought about it more, maybe they should have," Westfall said.
"The two of them have been living incredibly separate lives — their separate schedules took them in different directions," she added. "They said they had just grown apart. Tipper loved life and wanted to have fun, and Al remained a very driven man with a lot of projects and irons in the fire."
Diverging paths
Indeed, since the curtain came down on the controversial 2000 presidential election, when Gore won the popular vote but lost out in the electoral college to George W. Bush, Gore has become a Renaissance man. A tireless environmental advocate, he won a Nobel Peace Prize for his work in warning the world of the dangers of global warming in 2007, and an Academy Award that same year for his documentary on global warming, "An Inconvenient Truth."
But while the 62-year-old Gore traveled the globe furthering his causes — while still finding time to serve on the board of Apple and as an advisor to Google — his 61-year-old wife was often left to her own devices. Tipper, who worked as a photographer for the Nashville Tennessean newspaper while Al served as a reporter there during the early years of their marriage, continued to follow her passion for photography while also spending considerable time with the couple's four children and three grandchildren.
Something had to give, and it ended up being their marriage. Still, friends expressed sadness and shock at the split decision.
"You never want to hear news like that from a friend and somebody you care about, but I think they've made it very clear they're good friends, that this is a decision they've come to together," Kiki Mclean, a former Clinton adviser and close friend of the Gores told NBC.
But Chris Downey, a close friend of Tipper's since they were young congressional wives, broke down in tears when told the news. "This is the least likely course of events I could imagine," she told the Washington Post.
Still, Karen Tumulty, a veteran journalist who has covered the Gores throughout their political life, says much had changed in the couple's marital dynamic. While Tipper was Al's secret weapon during his campaign battles — her fun-loving attitude helping soften the image of what was often a very stiff, robotic candidate — Al largely made his own way in the world after 2000.
"I think in recent years in particular, she was very, very much in the background," Tumulty told NBC.
'No third party'
While speculation has ran high that it was Tipper who pulled the plug on their marriage, nearly all associated with the story are adamant that it was something, not someone, that broke up the long union.
Westfall told Vieira that "with the epidemic of infidelity lately," it was the first question out of her mouth when talking to Gore confidantes.
"Everybody was saying there's never been a whiff of that, they firmly believe there is no third party involved here," she said. "This is just two people that, very amicably, drifted apart."
In their announcement Tuesday, the Gores chose their words carefully, saying, "We are announcing today that after a great deal of thought we have decided to separate. This is very much a mutual and mutually supportive decision that we have made together, following a process of long and careful consideration."
But Vieira wondered aloud on TODAY why the couple decided to buy a $9 million home in tony Montecito, Calif., late last year if they were already on the path to parting. Westfall replied that both Al and Tipper are likely to use the estate as a home base for business in California as well a staging point for visiting their children, three of whom live in the state.
Westfall also pointed out that the couple got together with their children and grandchildren over Easter weekend for a family vacation. "I'm told that they expect that their lives will still be very intertwined around the family," she said.
Success or failure?
But if the Gores will still have family ties, it makes their marital split all the more puzzling. Speaking with Matt Lauer on TODAY Wednesday, psychologist Judith Sills said the couple may have found that disparate interests have pushed them apart.
"Separate lives can do that," she said. "We can have separate interests, but we're together and we're talking about them, and we're excited about them, and there's energy between us. [But] if he's in the dining room and I'm in the kitchen, and day after day goes by, there's not much happening between us, and that can go on for years."
Sills nonetheless could understand why so many people are riveted, and saddened, by the Gores' announcement. "It's troubling because we believed their narrative, that you could marry at 16 and basically live happily ever after," she said. "That was their romantic story, and we were invested in that story."
But the Gores may look at their split as an exciting new opportunity rather than just a sad end of a life spent together, she added. "It's sad that it can't go on forever, but it's courageous to say, 'I am stepping onto the stage myself and I've made a choice to let go of the hand I've been holding for 40 years.' "
Sills added it is wrong to look at a 40-year marriage as a failure. "The fact that we judge marriages as a success or failure by divorce seems false to me," she said. "The truth is, you have many marriages that in 40 years, you can have 25 years that are beautiful, and at the end of it, the life simply goes out of it.
"Then you make a different decision. [We shouldn't] judge it as a failure or success like a football game."
Copyright MSNBC - MSNBC