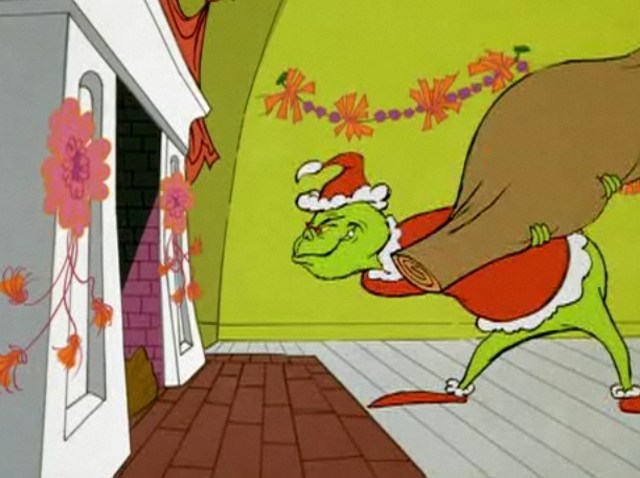 November 28, 2009
It's only four weeks until Christmas, and we all know what that means: 'tis the season for cheesy TV movies. National Tree (Hallmark, 8 PM) stars Andrew McCarthy (yes, THE Andrew McCarthy) and a boy from Save the Last Dance 2 as a father and son driving to Washington D.C. with a special tree in tow.

Beyond Sherwood Forest (SyFy, 9 PM) is a strange re-imagining of the classic Robin Hood tale. In this version, the Sheriff of Nottingham uses some crazy flying dragon to try and catch Robin Hood.
November 29, 2009
The Dog Who Saved Christmas (ABC Family, 8 PM) stars Mario Lopez as the voice of a mischievous dog left home alone while his family is out and about. While this is happening, two thugs (one of whom is Dean Cain) try to rob the house, but the dog deters them with silly pranks. This is Home Alone with a dog. It looks awful, but kids might like it.

If you have four hours free, catch Bruce Springsteen, U2, Sting, and pretty much any rock act you can think of performing on the 25th Anniversary Rock and Roll Hall of Fame Concert (HBO, 8 PM). Just change the channel when The Black Eyed Peas come on. They're not rock and roll.

Taraji P. Henson and Terence "Baby Wipes" Howard host the 2009 Soul Train Awards (BET, 9 PM). Michael Jackson already won the Entertainer of the Year Award.
November 30, 2009
The least annoying show about weird-looking cakes, Cake Boss (TLC, 9 PM) moves to a new time slot. I'm not sure what fondant is or if it can possibly taste good, but that's one of the most-used words in this show.

Chuck finds out something potentially damaging about Serena and Trip on Gossip Girl (The CW, 9 PM). The previews tell us that "Thanksgiving if full of secrets," which is true. My mom lied about buying a pre-cooked turkey once.

Hoarders (A&E, 10 PM) is hard to watch, but I would recommend it because it shows you the bad things can happen just in case you decide to never take out the garbage. Noxious fumes galore.
December 1, 2009
I was a little confused when I found out about Britain's Missing Top Model (BBCA, 9 PM). The show is about young women with disabilities who want to become models. But does the "missing" refer to what they are actually without, or whether Britain is "missing" a disabled model? I'm either offended or pleased. I cannot decide.

Scrubs (ABC, 9:30 PM) seems as though it will never go away. A 9th season will have Dr. Cox, J.D., and Turk teaching medical school, which just seems forced. Also, Elliott is preggers with J.D.'s kid because you need a baby born sometime before a series ends.

Look, boobies! In diamond-encrusted bras! The Victoria's Secret Fashion Show (CBS, 10 PM) will be watched by men across America while their wives and girlfriends roll their eyes in annoyance.

On the season finale of The Hills (MTV, 10 PM), a portent of the apocalypse may come true if Speidi is indeed with child. Also, Justin-Bobby and Kristin decide on whether they should date. They probably should not. And they should probably go away.

On the second season finale of Sons of Anarchy (FX, 10 PM), SAMCRO goes to the mattresses against The League.
December 2, 2009
The sacred Rockefeller Center tree is lit up for the holiday season amidst musical renditions from NBC darling Jane Krakowski and The Roots on Christmas in Rockefeller Center (NBC, 8 PM).

On Glee (FOX, 9 PM), the club is left out of the yearbook because of budget cuts and everyone is relieved, except for Rachel. You have better catch this one before Glee disappears for four months.

I laughed when I saw the previews for Steven Seagal: Lawman (A&E, 10 PM). He's totally serious about this police gig. Hopefully Seagal knows that squinting while talking and breaking pool sticks in half will not keep him safe from real guns.

For those who are in Project Runway withdrawal, Launch My Line (Bravo, 11 PM) is the latest show about fashion design. This show is different in that 10 established designers are paired off with 10 professionals who have dreamed of launching their own clothing lines. Why does this seem to be everyone's dream?
December 3, 2009
Tom gets a divorce from his hot greencard toting wife on Parks and Recreation (NBC, 8:30 PM) and gets the sads.

Liz begins production on her Dealbreakers talk show on 30 Rock (NBC, 9:30 PM) and finds out what it's like to be Jenna. God help the TGS cast.

Jersey Shore (MTV, 10 PM) is a good choice for anyone who was a fan of the True Life episode "I Have A Summer Share." Just think of the explosive possibilities when just the right amount of hair gel and white tank tops combine.
December 4, 2009
Tonight marks the beginning of the end for Dollhouse (FOX, 8 PM). The network will air two episodes back-to-back tonight.

Monk (USA, 9 PM) is coming to a close tonight. Monk will figure out who killed his wife, but hardly anyone will notice because no one has watched this show since 2005.

The first season finale of Stargate: Universe (SyFy, 9 PM) airs tonight.
For more from Television Without Pity:
Copyright TVWOP - Television Without Pity