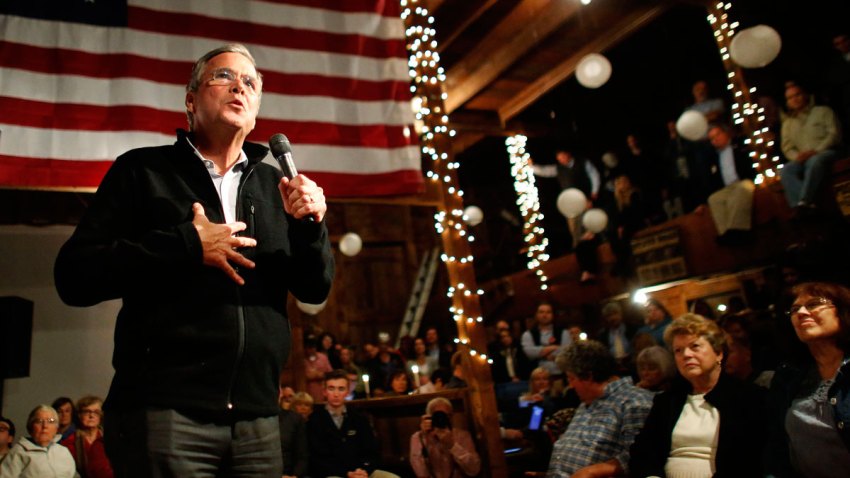 Scott Walker is back on the presidential campaign scene in Wisconsin, seven weeks after dropping his own Republican bid.
The Wisconsin governor, who hasn't endorsed a candidate for president, planned to appear alongside rival Republican hopefuls Jeb Bush and Marco Rubio at separate events Monday, a day ahead of the next GOP debate in Milwaukee.
The debate in his backyard gives Walker, who once hoped to be on the stage rather than watching from the audience, a chance to rehabilitate his political image after his short-lived candidacy. That could give him a shot at becoming the vice presidential pick of the eventual GOP presidential nominee.
"When God closes one door, another one opens," Walker wrote in a fundraising email to supporters Friday. "While I don't know exactly what the future holds, trust me, we will continue leading the fight for big, bold conservative change in Wisconsin and across America."
Walker has said he has no interest in serving as a future Cabinet member. But he has not ruled out seeking or accepting an invitation to be the nominee's running mate.
As a politician with a national following who won three elections as governor in four years, Walker's backing will be highly sought-after, said Wisconsin state Assembly Speaker Robin Vos.
"Every candidate knows Walker has been a tenacious fighter in Wisconsin," said Vos, who is endorsing Rubio. "Any nominee would want Walker to go out and rally supporters."
Walker has been busy in the nearly two months since he dropped out of the presidential race. He once again angered public sector unions by getting behind a bill in the Legislature making it easier to hire and fire state workers, reworking Wisconsin's 110-year-old civil service system.
Walker last month signed into law a bill ending secret John Doe investigations into political misconduct. He was involved with two such investigations, including one that focused on his gubernatorial recall campaign in 2012 and coordination with conservative groups.
And Walker has also spoken out in favor of doing away with Wisconsin's unique, bipartisan elections board that's been described as a national model. A bill to do that could be in front of Walker for his signature later this month.
Walker's campaign stop Monday with Bush gives them a chance to talk about a shared political strength — advocacy for school choice programs. They were to appear at the Hispanic charter school La Casa de Esperanza in Waukesha, a Republican stronghold outside of Milwaukee, not far from Walker's home.
Bush, while governor of Florida between 1999 and 2007, instituted a series of education reforms that emphasized school choice, including charter and virtual schools, annual testing, grading of schools and performance-based bonuses for teachers.
Similarly, Walker has long been an advocate of school choice programs as a state lawmaker and as governor since 2011. Walker has expanded the private school voucher program statewide, raised the amount of the subsidy, eliminated enrollment caps and created new vouchers for students with disabilities.
After the appearance with Bush, Walker was to join Rubio at a fundraiser for Wisconsin Republican state lawmakers. Rubio has won the endorsement of 21 state lawmakers.
This week's more public role for Walker in presidential politics comes as he's still trying to dig out from his own bid that lasted just 70 days. In last week's fundraising plea to supporters, Walker noted that his campaign was in debt. He's estimated to have about $1 million in outstanding bills.

Copyright AP - Associated Press