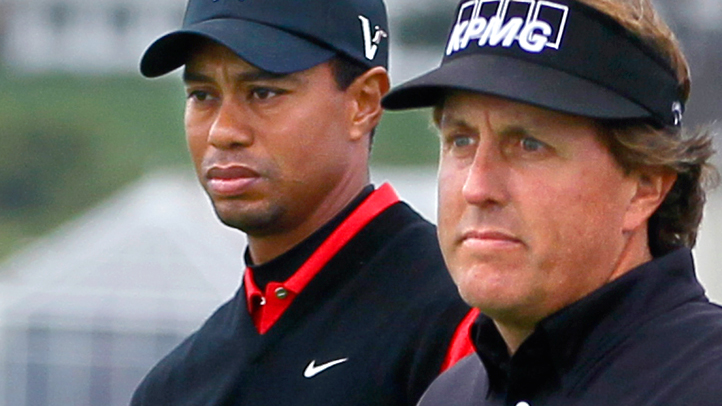 When the U.S. Open tees off on June 13 at Merion Golf Club -- the first time the Open's been held in Pennsylvania in more than 30 years -- Tiger Woods will be the heavy favorite. But Tiger's not the only one with a chance to win. Here are nine other golfers primed to win the major championship.
Webb Simpson. As the reigning U.S. Open champ, Simpson's been a bit up and down as of late, but a second place finish at the 2013 RBC Heritage and top 15 at the Players Championship means he's streaking at just the right time. The 27-year-old former Wake Forest star says his game plan for taking on the historic site is to look at it as two different courses. Simpson knows if he drives well, the first 13 holes offer nine wedge opportunities. The last five, though, are some of "the hardest that we have ever had in the U.S. Open," he said to ESPN.
Kevin Streelman. He may not be a household name, but the 34-year-old Streelman ranks as one of the world's best. Coming off his first PGA win in March and second place finish in the Players Championship, Streelman's going in to the U.S. Open with confidence. That should give him a mental edge to help him improve on his 2012 59th place finish.
Adam Scott. Sure, Scott finished nine under par at Augusta National to win the Masters this year. But can the Aussie keep the Grand Slam dream alive in the U.S. Open? Tabbed as the next big thing in golf, he is among a pack of players that include Phil Mickelson, Brandt Snedker and Justin Rose with 25-1 odds to win the Open -- just behind favorites Tiger Woods, Rory McIlroy and Lee Westwood. Merion does present a challenge, though: Scott drives at just over 41% accuracy, and the course is a course suited for those with a strong par-four game and short-iron style.
Rory McIlroy. A bad stretch of holes doomed Rory McIlroy at the Masters, pushing him out of the top 10. But he's prospered in U.S. Open preparations since then, with four top 10 finishes in his last six events, and the Northern Ireland native ranks number two in the world. One of the best putters in the game, he's itching to be back on top. He's succeeded on this stage before -- McIlroy won the U.S. Open in 2011.
Brandt Snedeker. One of the key elements to winning a major tournament is putting. Reigning FedEx Cup winner Brandt Snedeker is recognized as one of the best putters on tour. In February, after winning the AT&T Pebble Beach National Pro-AM, he was ranked No. 4 in the world. Going in to the last day of the Masters, he was tied for first before flopping in the final round and finishing in sixth place. Since then, he's turned his attention to the U.S. Open by prepping for Merion. Merion's East Course has consistently been rated among America's toughest courses. Snedeker's been spending time at the course, including a trip before the Masters and a round in mid-May. He said Merion was a "great venue" than got him "jacked up for the U.S. Open." The key to his success will be it cool during late holes.
Graeme McDowell. Given his U.S. Open pedigree, McDowell is one player who invites intrigue. Like Snedeker, the 2010 U.S. Open champ has already played the Pennsylvania course. He's also showed the ability to handle windy conditions and tight confines at the RBC Heritage Tournament in April, where he claimed his second PGA Tour victory. Merion's Golf Club is a minute track set to feature thin fairways, high rough, and slick green. His ability to play tough will serve him well as he fights for a spot atop the leaderboard.
Phil Mickelson. Mickelson's won 41 times on the PGA tour, including four major championships. He's been inducted in the World Golf Hall of Fame and received almost $70 million in prize money. Still, he's never won the U.S. Open. Five times, the lefty finished second. Coming off a rough run at the Masters, he'll have to control the ball and give his short game more of a chance if he hopes to cure his "always a bridesmaid" streak at the U.S. Open.
Justin Rose. At the Masters, Rose was in excellent form from tee to green -- but he struggled with his short game on Augusta's lightning-quick greens, and finished 25th. Rose vowed to focus on his putting, and that's going to be key as the 32-year-old heads into the U.S. Open. Usually one to put himself in good position during the majors, he finished last year's tournament tied at 21.
Luke Donald. A permanent fixture in the top-10 for over two years, the 35-year-old Donald has never received universal acclaim because he still hasn't won a major championship. That could change at the U.S. Open. He's recognized as possessing one of the best short games on the tour. With an emphasis on positional play and plenty of wedge approach shots, Merion is his ideal course.