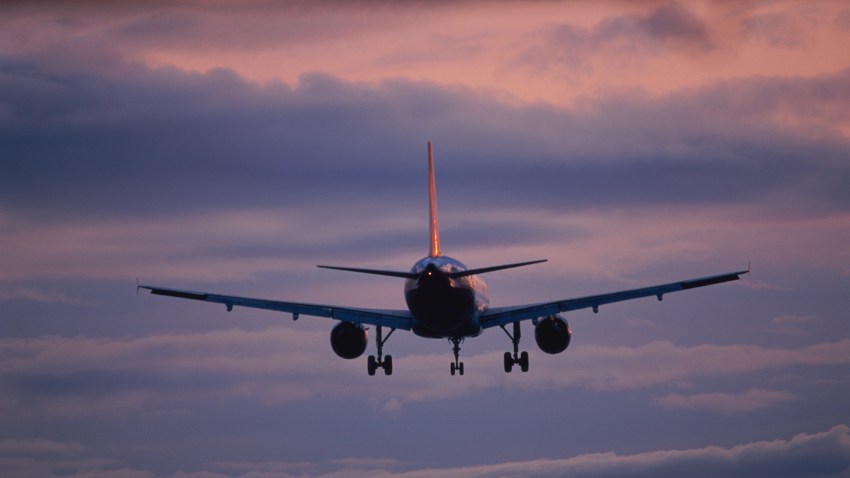 A misprint on a birthday-themed promotion offering airline tickets means some recipients are eligible for a deal on airfare.
The birthday cards were mailed from a company known as Global Exchange Vacation Club.
"We've been going crazy trying to contact you," read the birthday card.
Nicole Lopiccollo of Placentia says she received a sample boarding pass in her card.
"It was the feeling of excitement. You get going, 'Oh, it's my birthday,'" said Nicole Lopiccollo. "It looked like it was from U.S. Airlines, a legitimate airline."
The card had one disclaimer: "Call for details … restrictions apply."
NBCLA tried calling the company for details and got this recording: "Hi there, you have reached Ultimate Vacations. We had an overwhelming response to our promotion…"
An operator from the company told us, "The trip is valued at well over $1,200."
Two planes tickets and a car rental for a week. So what's the catch?
The Global Exchange Vacation Club operator told us, "They are incentives for you to attend the 90-minutes sales presentation on vacation ownership."
In other words: a time-share.
According to the California Department of Real Estate, which regulates time-share companies, state law requires mailers to clearly spell out what's required to collect those plane tickets, including costs and any sales pitch you have to sit through.
"It's certainly a violation of statutory requirements and I would say, yes it's misleading," said the department commissioner, Jeff Davi.
Armed with hidden cameras, NBCLA visited the GEVC showroom in Woodland Hills.
The place was packed with other birthday card recipients, and sales people pushing the latest version of vacation ownership. Rather than selling time, they offered points for $30,000.
After two hours of sales pitches and video presentations, we didn't exactly get our tickets.
A GEVC sales agent told us, "All you have to do is read and follow the terms and conditions."
We were given vouchers with a list of 15 conditions and restrictions.
Gary Almond, the vice president of the Southern California Better Business Bureau, says he's received dozens of complaints.
The tickets are never free, Almond said.
"They all require some kind of deposit," Almond said.
For this deal, $75 was required in a money order or cashiers check that must be sent certified mail -- none of which is explained on the birthday card.
"That's why we're investigating this time-share operator," Davi said.
We caught up with the company's owner, Tim Michalec, at the offices of Ultimate Vacations in Costa Mesa.
So we had to ask him, "I don't really just get this for my birthday?"
"No, you have to call up and participate. You are absolutely right, Ana," Michalec said.
Michalec credits the lack of disclosure to an "error, a misprint."
"We're correcting it," said Michalec. "If anyone got a mailer without proper disclosure, they are welcome to call and we will mail them their certificates."
"That's a nice gesture on his part, and if it's not an error and is a practice they do on regular basis, we will take sanctions against their license," said Davi.
So if you received one of the birthday cards without the required details, Ultimate Vacations says they will "make good on their officer" and give you a certificate for two plane tickets to anywhere in the United States.
There are still 15 restrictions and a $75 fee. The deal also requires a seven-day stay, and the tickets are for adults only.
PDF: Click here to read the restrictions
Global Exchange Vacation Club can be reached 1-800-655-9247.
The company president also sent us this statement:
Global Exchange Vacation Club has thousands of Members traveling with their families all over the world. It is our mission to provide quality vacation experiences at affordable prices to our Members. We are extremely proud of the service we provide our Members and the fact that a great portion of our business is generated through referrals directly from our Member base.

Our marketing campaigns utilize various marketing companies to generate guests to our sales galleries, and we assure you that every effort is made to comply with all State, Federal and Local laws, all Department of Real Estate regulations and the State Business and Profession Code.

As a small independent company in Southern California. Global strives to be the best we can be and provide a great product and service to our Members. If any mistakes have been made, they will be dealt with and corrected swiftly.
To file a complaint with state regulators, visit the department's website.
If this has happened to you or if you have another consumer or investigative story, please contact: fred.mamoun@nbcuni.com.