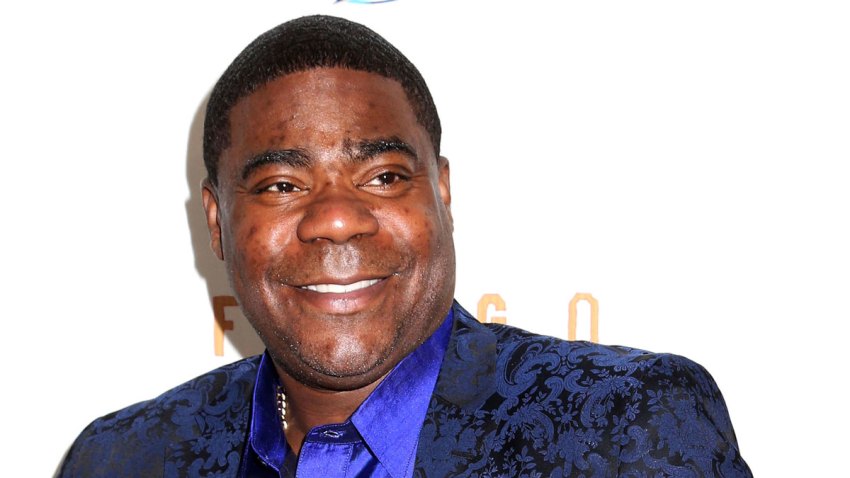 Tracy Morgan will be on NBC's "Today" show for his first interview since the fatal highway crash that killed comedian James "Jimmy Mack" McNair and left Morgan, along with two friends, seriously injured.
Last June, a Wal-Mart truck slammed into the back of a 2012 Mercedes Sprinter limousine-bus carrying Morgan, McNair and several others who were returning from a comedy show in Delaware. The actor suffered traumatic brain injury, a broken leg, and broken ribs. His lawyer, Benedict Morelli, said in March that Morgan has not fully recovered but was "working very hard to get better, physically, emotionally and mentally."
The actor-comedian settled his lawsuit against Wal-Mart at the end of May. The retail giant also reached an out-of-court settlement with McNair's two children earlier this year and said it was working towards settlements with other crash victims:
"We know there is nothing we can do to change what happened to Mr. McNair," company spokeswoman Brooke Buchanan said in January. "We're committed to doing what's right."
Limo van passengers Ardley "Ardie" Fuqua and Jeffrey Milea, who are also comedians, suffered serious injuries in the fatal crash as well and were plaintiffs in Morgan's lawsuit against Wal-Mart. Fuqua was in a medically-induced coma for one month with critical injuries to his brain and body, and his leg was shattered in five places.
"I'm just glad for all of this to be over," Fuqua told NBC Owned Stations. " I want to continue concentrating on my rehabilitation."
Morelli said Morgan was very emotional after settling the lawsuit but is happy to put the litigation behind him and have closure, according to The Associated Press.
Terms of the settlement weren't disclosed, but the former "SNL" and "30 Rock" star praised the agreement.
"Wal-Mart did right by me and my family, and for my associates and their families," Morgan said in a statement. "I am grateful that the case was resolved amicably."
According to a criminal complaint, the driver, Kevin Roper, was operating the Wal-Mart truck without having slept for more than 24 hours. Roper faces several criminal charges, including death by auto, in state court. He has pleaded not guilty and was not a defendant in Morgan's federal lawsuit.
Authorities with the National Transportation Safety Board estimated that Roper was driving 65 mph on the New Jersey Turnpike when he apparently failed to slow for traffic ahead, swerved to avoid a crash, and ricocheted into Morgan's limo van.
Morgan is scheduled to appear live on the "Today" show on Monday.
Copyright AP - Associated Press