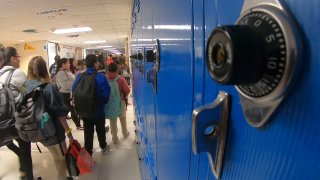 Given the number of high-profile school shootings last year, both children and adults may be feeling anxiety about school safety. As many kids head back to school, knowing how to speak with them is key in helping to alleviate fear and worry about their personal safety. Here's where to start, according to Parent Toolkit.
Create a sense of normalcy and return to a routine. Children can feel safer when things are "normal" and they may open up about their thoughts. If they don't open up, encourage them with open-ended questions and let them lead the conversation. Know their concerns and worries are valid and recognize them.
As most schools have active shooter drills or other safety practices, discuss with children why this is necessary and identify any adults they can turn to in those moments.
Remember to keep these discussions age-appropriate. For elementary school kids, stay brief and simple and remind them they will be OK. For middle schoolers, prepare for more specific questions. For high schoolers, be ready to discuss more opinions and identify reputable online sources to seek information.