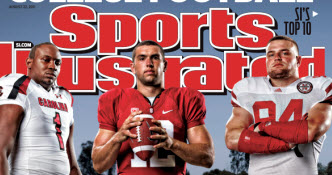 Once a staunch opponent of embracing Steve Jobs as the savior of publishing, Time has signed up to sell magazine subscriptions through Apple's newsstand.

Apple and Time made the announcement Thursday, which will make 20 magazines from Sports Illustrated to People to InStyle available for purchase and download on the iPad, iPhone and iPod Touch.

The nation's largest magazine publisher joins the likes of Heart and Condé Nast who already have deals to sell magazine subscriptions through Apple.

Time had initially refused to work with Apple in part because of a series of restrictions the company places on subscription sellers using its platform, including take a cut of the subscription price.

The deal is one of the first major moves by new Time chief executive Laura Lang, who took over the company in January.

Apple has also eased some of its restrictions at it faces competitions from other tablet-makers and Amazon.