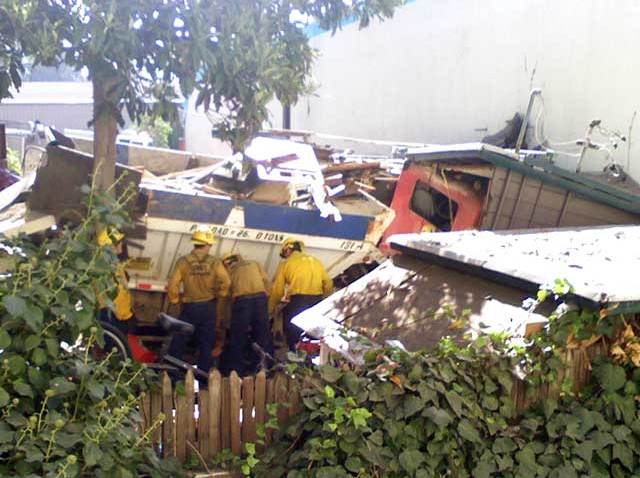 Fire officials said three people were killed Tuesday when a gravel truck crashed through a building in Santa Barbara. Authorities were trying to determine whether it was mechanical or operational failure that led to the crash.

The crash occurred in the 4100 block of State Street. Santa Barbara County fire Capt. David Sadecki said the truck flattened a small wooden home.
Authorities said a man, woman and 7-year-old child were killed. Neighbors at first said there might be a fourth victim but Sadecki said it was determined nobody else was home at the time.

The California Highway Patrol said the truck was transitioning from State Route 154 onto the road when its brakes apparently failed. KEYT News reported that witnesses said the truck swerved off Highway 154, past the Hope Ranch Inn, and smashed into the house.
Witnesses reported seeing smoke coming from under the truck. The driver avoided a motel and steered the truck into a side street before crashing.
Pitney said the crash completely destroyed the home and buried some sections in gravel.
"Completely flattened it," Santa Barbara County fire Capt. David Sadecki said.

The truck driver, Joaquin Garcia Morales, had just collected a load of gravel from a nearby rock quarry.
The flattened home was one of two homes on the lot that were surrounded by mini-storage units. Both sat below the embankment and could not be seen from the roadway.

Authorities said Morales initially suspected something was wrong with his brakes after collecting his load but decided they were in good enough shape to keep driving. The tractor section of the truck was owned by Morales, who was leasing the two trailers he was hauling.
Pitney said Morales was treated at the scene for facial cuts.
The victims were identified by the California Highway Patrol late Tuesday as Lorena Pachecho, Leonel Leon and Jaciel Tellez.

Erasmo Zapien, 64, who lives next door to the destroyed home, said he heard an enormous crash, then saw the family's house collapse. He said Leonel (Leo) Leon was 23, Lorena was 27 and Jaciel was 7. The family had moved to the U.S. from Oaxaca, Mexico, about five years ago, he said.

Leo worked as a chef and Lorena was a housewife, he said.

Zapien said he recently saw the family in good spirits preparing to celebrate Leo's 24th birthday on Friday.

"They were very friendly, very good people," he said.

Copyright AP - Associated Press