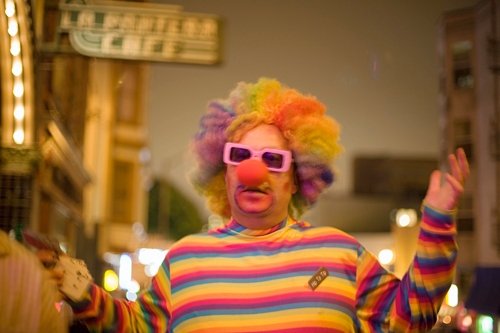 Funny shoes, a red nose -- and Steve Jobs's very own 64 gigabyte iPad 2.

Kenny the Clown, also known as Kenneth Kahn, is a professional clown -- and the 47-year old was also in possession of Steve Jobs's stolen iPad for a couple of days, according to the San Jose Mercury News.

Kahn was given the gadget by a friend, who is now charged with breaking into Jobs's Palo Alto home and looting it of jewelery, electronics, and other goodies once owned by a famous person, the newspaper reported.
Kahn never knew the former owner was the famous Apple founder, he told the newspaper.
Kariem McFarlin, 35, of Alameda, is accused of breaking into the Waverly Street home on July 17, the newspaper reported. McFarlin knows Kahn from when Kahn coached him on the Encinal High basketball team a couple decades ago, according to the newspaper.

Kahn is still an Alameda resident and remains close with McFarlin, the newspaper reported.

McFarlin stole Jobs's wallet and drivers license as well as the electronics, the newspaper reported.

"He's a nice guy who made a horrible, horrible decision," the clown told the newspaper. "I wish I could ask him, 'What were you thinking?'"