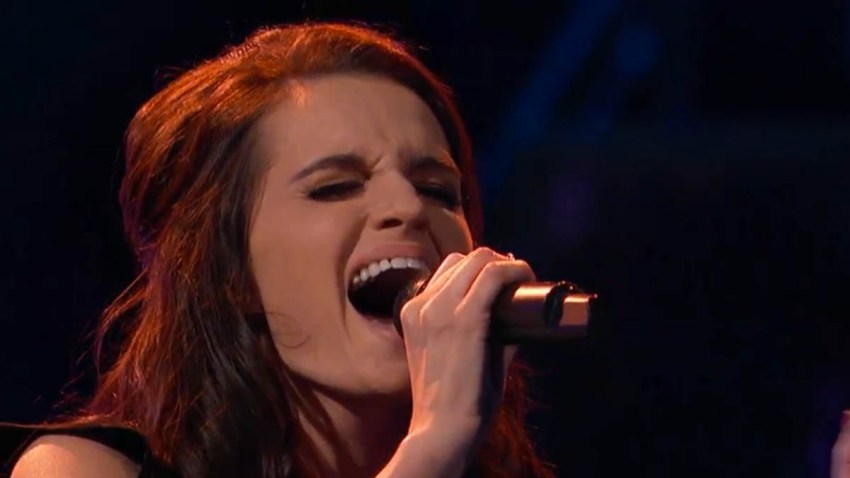 Tuesday night's #knockout episode of "The Voice" had singers belting it out to stay in the competition — and a surprise steal that left one singer ecstatic over the last minute save.
In the second night of #VoiceKnockout rounds, pairs of singers from the same team competed against each other to earn a place in the live rounds. And while all the coaches faced tough decisions in choosing one singer over another, Blake Shelton and Christina Aguilera clung to their remaining steals in hopes of claiming talented performers from other teams. (Nate Ruess, the energetic frontman of the rock band fun., continued advising the young singers on their knockout songs.)
The first #VoiceKnockout featured two artists Shelton called his "two young country vocalists": Corey Kent White and Cody Wickline.
Wickline performed "Til My Last Day" by Justin Moore, while White performed an emotional rendition of Tim McGraw's Grammy Award-winning "Live Like You Were Dying" in honor of his sick grandfather.
A clearly torn Shelton struggled to choose one competitor over the other. But with his back to the wall, he picked Wickline.
"I'm so glad knowing that my grandfather was able to watch this performance," said Wickline, after telling the judges that his grandfather was recovering. "This is better than it could have ever worked out in my wildest dreams."
Next up were two pop-rock singers from Adam Levine's team: Blaze Johnson, Jr. and Deanna Johnson. ("Johnson and Johnson!" quipped Shelton.)
Blaze channeled some of the adversity he faced growing up in a performance of The Fray's "You Found Me." Deanna aimed high with a rendition of "Listen to Your Heart" by Roxette.
Ruess challenged Deanna to relax onstage. "There's a uniqueness to your voice that nobody else has these days, but you're stressing me out," he said. "At some point, you need to just lose yourself for a second."
But while several coaches all criticized Deanna for her nerves onstage, Levine chose her over Blaze, citing her vast potential as a performer.
The night's third and final #VoiceKnockout featured two of Team Pharrell's powerhouse vocalists: Hannah Kirby, who belted out Steve Winwood's "Higher Love," and Caitlin Caporale, who sang "Warrior" by Demi Lovato.
"You're both my favorites, and I'm so proud of how you've come in this round," Williams said. "But I'm going to choose Caitlin."
Turning to Kirby, a gracious Williams said: "When you have those dance moves and that voice, people believe in you."
"Yes they do," Shelton cut in, right as he used his only steal to bring Kirby — an original member of Team Blake — back into the fold.
"I never dreamed I'd have the opportunity to have you back where you belong," Shelton told an ecstatic Kirby, as the two embraced.
That left Aguilera with the lone remaining steal, which she's sure to use next week as the knockout rounds continue.
"The Voice" returns Monday, March 30 at 8 ET / 7 CT on NBC.