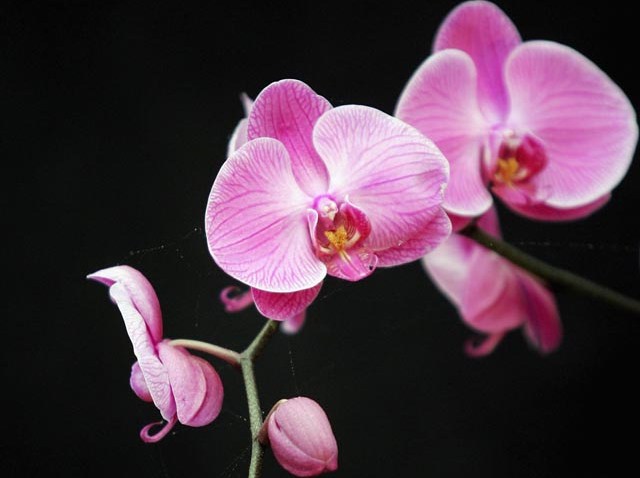 THAT STAR FLOWER: We're of the opinion that every growing thing needs its occasional celebration, if only to remind people of the vast number of things that sprout, rather marvelously and magically, on this here planet. There are plenty of vegetables and fruits and trees and flowers that will never get their day in the sun, metaphorically, if only because they are so common and so much a part of our lives (we happen to think that the most common things are the things most in need of a party). But then there is the rose, a flower that has many festivals in all corners of the world. The tulip, too. And that flower that outdoes other flowers in the categories of mystery, rarity, elegance, and otherworldliness. It's the orchid, which we hardly even need tell you, and one of it biggest bashes of the year is just ahead, at the Santa Barbara International Orchid Show.
A RAINBOW OF ORCHIDIANA: Of course, it isn't quite right to say that every orchid bloom is ultra uncommon and deserving of an actual spotlight; some are far easier to find than others. But one of the great aspects to this venerable flower show -- it marks year 68 in 2013 -- is that the full array of orchidiana is on display. You'll see the sorts of flowers that people keep in pots in their guest bathrooms, and you'll see specimens that look as if they were discovered after a team of adventurers waded five days into a deep and dark bog.
ON THE SCHEDULE: Workshops, a corsage exhibition (ohhhh, corsages), and plenty of orchid dealers and specialists on the floor.
DATES: Everything gets blooming at the Earl Warren Showgrounds from Friday, March 8 through Sunday, March 10.
Copyright FREEL - NBC Local Media