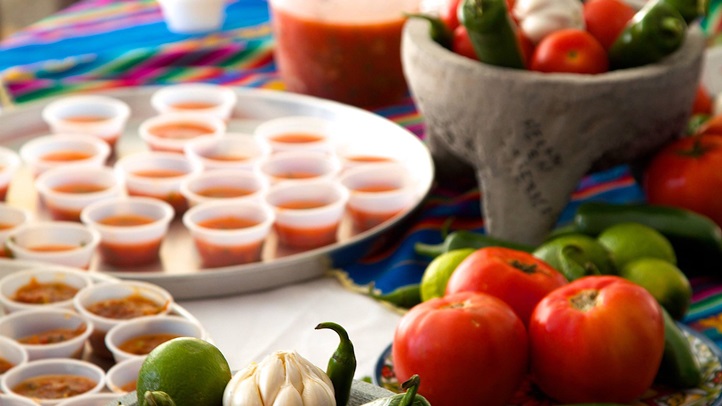 CALIENTE CREATIONS: A lot of food festivals put the focus on attendees eating whatever is being offered on the festival grounds. Think avocado ice cream at our state's various avocado celebrations or ribs wherever ribs are on the grill or the other tasty wares sold by vendors who fit the foodly theme. But a salsa festival is a different matter, if only because a lot of the attendees -- dare we say the majority, or close? -- have likely made some sort of salsa in their lifetime. Whether it was chopping up some tomatoes and onions and cilantro or putting together a 12- or 15-ingredient pico de gallo, many SoCalers make their salsa a point of pride. Which means, of course, that the Oxnard Salsa Festival, which lines up the bowls on Saturday, July 26 and Sunday, July 27, is very much about giving festival guests their own day in the sun, or at the judging tables, rather, via the Great Oxnard Salsa Challenge.
YEP, IT'S A COOKING CONTEST... and a tasty one at that. Check out the categories: Best Green, Best Red, Best Specialty/Fruit, Best Mild or Medium or Hot and Judge's Choice (and those are just in the amateur division; there's a professional division as well). Past winners have gone home with a jar of official festival salsa and a thirty-dollar restaurant gift certificate, plus the glory of making magic out of an already magical dish.
PLUS? The festival is very much about salsa, as in dancing, meaning you'll shake it and watching people shaking it, too (this is an excellent chillaxing opportunity after consuming one too many tortilla chips). For all the info on the many, many types of salsa on display and the many, many salsa dancers who arrive in Oxnard to dazzle, dip your chip right here, salsa lover.
Copyright FREEL - NBC Local Media