The openly gay Texas pastor who accused Whole Foods Markets of having sold him a cake decorated with an anti-gay slur apologized Monday and said he was dropping his lawsuit against the grocer.
Whole Foods welcomed the apology and said it was dropping its countersuit.
Jordan Brown, pastor of the nondenominational Church of Open Doors in Austin, filed his suit last month after he drew national attention for a photo he shared of the cake, which was decorated with the inscription "LOVE WINS" — followed by an anti-gay epithet — in blue icing, NBC News reported.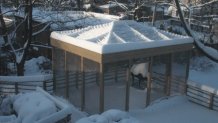 "That's not the cake I ordered, @WholeFoods and I am offended for myself & the entire #LGBT community," Brown tweeted.
Brown's Twitter account was no longer live Monday afternoon.
In response, Whole Foods Market Rocky Mountains/Southwest filed a countersuit seeking $100,000 in damages for what it strongly insisted was a false accusation.