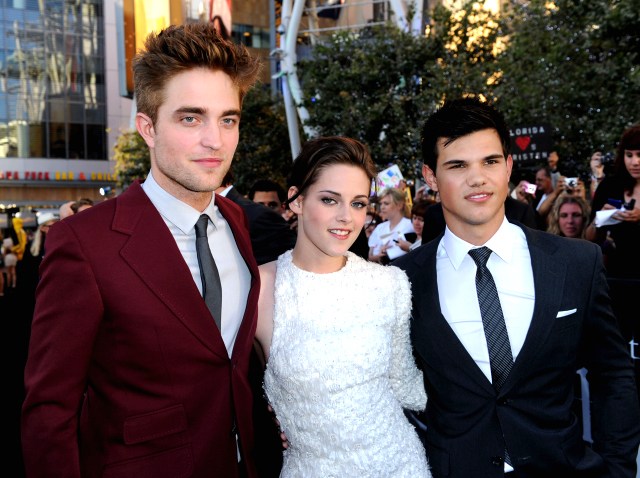 Taylor Lautner was looking sharp in a handsome suit on "The Twilight Saga: Eclipse" black carpet in Los Angeles on Thursday night, but on Friday he planned to cut loose.
"You're done with 'Twilight' after tonight [for a bit]. What's the first thing you're gonna do tomorrow morning?" Access Hollywood's Shaun Robinson asked Taylor on his way into the film.
VIEW THE PHOTOS: All Access: 'The Twilight Saga: Eclipse' World Premiere
"Tomorrow morning, I am gonna relax for a day," Taylor said. "I'm gonna do nothing."
In the coming days, however, the 18-year-old said he has some quality plans in mind – spending time with his loved ones.
VIEW THE PHOTOS: Hot Shots From 'The Twilight Saga: Eclipse'
"I have family in town I'm gonna spend time with them. And then the next day I'm gonna go to New York," he said.
New York though, will only be a brief stop.
"Then I go to Pittsburgh – to begin filming 'Abduction!'" Taylor said of the thriller he will star in, playing a teenager who finds out he was kidnapped as a youngster, prompting the discovery of a major conspiracy that sends him on the run.
VIEW THE PHOTOS: 'Twilight' Heartthrob: Taylor Lautner
Before Taylor left Access Hollywood's platform at the "Eclipse" premiere, Shaun presented him with a super treat. To find out what it was, and why Taylor freaked out over it, tune into Access Hollywood on Friday.
Copyright 2010 by NBC Universal, Inc. All rights reserved.
This material may not be published, broadcast, rewritten or redistributed.
VIEW THE PHOTOS: All Access! Rob, Taylor, Kristen & More 'Eclipse' Stars In LA!
Related Content from AccessHollywood.com:
PLAY IT NOW: Kristen Stewart's 'The Twilight Saga: Eclipse' Premiere, Los Angeles
PLAY IT NOW: Billy Burke On 'Twilight': It's 'Comfortable' Being Charlie Swan
More from Access: [ Eclipse Shaun Robinson Movies ]
Copyright NBCAH - Access Hollywood