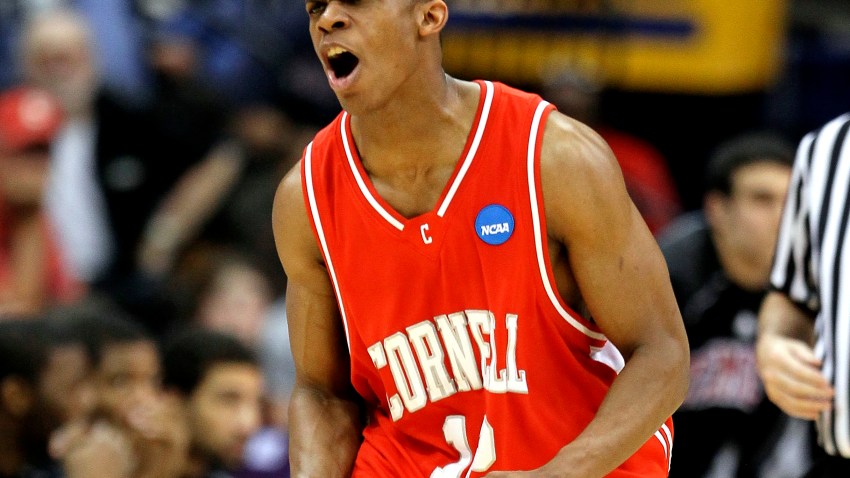 Hey Big Blue, here comes Big Red!
Louis Dale scored 26 points and Ryan Wittman added 24 as No. 12 seed Cornell upset fourth-seeded Wisconsin 87-69 on Sunday, becoming the first team from the Ivy League since 1979 to advance to the round of 16.
The Big Red (27-8) will play top-seeded Kentucky in the East Regional semifinal Thursday in Syracuse, N.Y., about an hour from Cornell's campus. It could be a tough ticket, though, since Kentucky's basketball-crazed fans got a head start when the Wildcats advanced Saturday.
Here's how other teams fared on Sunday:
No. 1 seed Syracuse beat No. 8 Gonzaga. Wes Johnson, the Big East player of the year, scored a career-high 31 points and pulled down 14 rebounds as top-seeded Syracuse hit a dozen 3-pointers to stun the Zags 87-65. Syracuse's storybook season — the Orange were unranked before the season and made it to No. 1 for the final week before losing to Georgetown in the Big East tournament — continues on Thursday. The Orange (30-4) will play fifth-seeded Butler (30-4) in Salt Lake City in the West Regional.
Ohio State topped Georgia Tech, 75-66. Evan Turner rebounded from one of the worst shooting nights of his career with 24 points, as second-seeded Ohio State outlasted foul- and turnover-plagued Georgia Tech for the victory.
Michigan State beat Maryland 85-83 at the buzzer. Korie Lucious hit a 3-pointer to cap a frantic finish and give injury-depleted Michigan State the victory over Maryland. After star guard Kalin Lucas went down with a leg injury, the Spartans blew a 15-point lead in the second half. Greivis Vasquez's basket put fourth-seeded Maryland ahead 83-82 with 6 seconds left, but Michigan State inbounded immediately and pushed up the floor.
No. 2 seed West Virginia beat No. 11 Missouri. Da'Sean Butler lead the Mountaineers into the NCAA tournament's Sweet 16 after scoring 19 of his team's 30 points in the first half, finishing with 28. West Virginia (29-6) advances to face No. 11 seed Washington in the East Regional semifinals at Syracuse on Thursday. It marks the first time since 2008 that the Mountaineers have reached the final 16.

Xavier held off Pittsburgh. Jordan Crawford became a YouTube sensation when shown dunking on LeBron James. Now Jordan Crawford is making a name for himself on a more traditional stage, scoring 27 points, including a breakwaway dunk with just over 2 minutes remaining, to help the sixth-seeded Musketeers beat Pittsburgh 71-68 to advance to the round of 16 for the third straight year.

Purdue edged Texas A&M. Chris Kramer's daring drive and layup over Texas A&M big man Bryan Davis with 4.2 seconds remaining in overtime sent fourth-seeded Purdue to a 63-61 victory over the fifth-seeded Aggies.

Top-seeded Duke defeated Cal. Defense has always been the foundation of Mike Krzyzewski's team, and the top-seeded Blue Devils sent their coach of three decades into a regional semifinal for the 19th time with a stellar performance in a 68-53 victory over California.

Copyright AP - Associated Press