Gay couples began marrying in Virginia on Monday, just hours after the U.S. Supreme Court cleared the way by turning away several appeals.
Erika Turner and Jennifer Melsop of Centreville, both 26, became the first same-sex couple to get married in Arlington County when they wed on the Arlington courthouse steps, just after picking up their marriage license.
"We've talked about this a lot," Turner said. "We've been trying to find a way to plan our wedding in other states, so we couldn't pass up the opportunity to marry in our own state."
The couple has been together for four years and had been engaged for the past year and a half. They had planned to marry in D.C. next August, but when they heard the news Monday morning, they decided right away to act.
"She came up to me crying and said, 'I think we can get married today,'" said Turner, a registered nurse.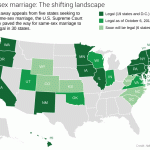 They chose the Arlington courthouse because they heard someone might be on hand to officiate once their license was in hand. And as the couple stepped out of the courthouse, they stepped right into a marriage ceremony.
Turner and Melsop were married by a Unitarian minister on the courthouse steps, exchanging matching rings in differing shades of gold. But they hadn't anticipated they'd become the first same-sex couple to marry in Arlington County.
"We thought we'd be in a long line, waiting for this moment," said Melsop, a vetinerary assistant and student.
As for the first thing they'll do as a married couple? "She's going to get my health insurance," Turner said.
The $30 fee for their license was paid for by another couple, Rhonda Buckner and Diane Ullius, who married in Canada in 2006 and have fought for the rights of same-sex couples to marry in the United States.
"I think it's incredible," Melsop said. "[It's] people like them who have paved the pathway for this to happen."
The unexpected flood of weddings Monday came just after the Supreme Court declined to take up five appeals of lower court rulings in favor of same-sex marriage, clearing the way for marriages to begin in those states.
At the Arlington courthouse Monday, other same-sex couples previously married in other states also gathered to cheer the news, including Arlington County Board Chairman Jay Fisette and his partner, who married in D.C. last year after three decades together.
.@AGMarkHerring "this is the outcome we have hoped for. It is the outcome the Constitution requires @nbcwashington pic.twitter.com/tOwmCJgbOQ — Julie Carey (@JulieCareyNBC) October 6, 2014
In Richmond, Lindsey Oliver, 30, and Nicole Pries, 42, became the first same-sex couple in the commonwealth to wed when they got their marriage license from the Richmond Circuit Court Clerk's office just after 1 p.m. Monday.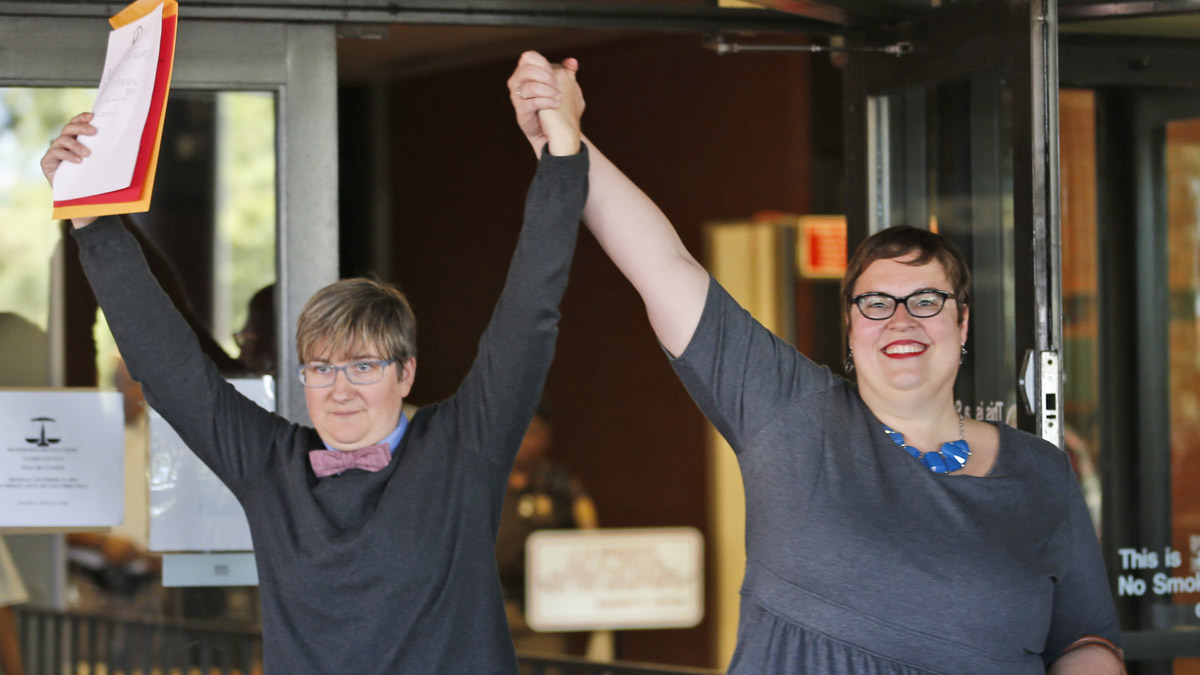 They were married by gay-rights advocate Rev. Robin Gorsline upon leaving the courthouse.
The couple said Monday also was the anniversary of a commitment ceremony they held on a North Carolina beach three years ago.
Across Virginia, county clerks are readying for an influx of marriage license applications, now that same-sex couples can marry. The new licenses, which contain spaces for spouse and spouse instead of bride and groom, became available around 1 p.m. Monday.
"This is the outcome we have hoped for. It is the outcome the Constitution requires," Virginia Attorney General Mark Herring said at a news conference Monday afternoon, held on the same plaza where Melsop and Turner married later in the day.
The marriages were made possible after the U.S. Supreme Court declined to hear appeals from five states that sought to prohibit gay and lesbian unions. The justices did not comment in rejecting appeals from Indiana, Oklahoma, Utah, Virginia and Wisconsin.
Experts had expected the justices to step in and decide gay marriage cases this term. It takes just four of the nine justices to vote to hear a case, but it takes a majority of at least five for an eventual ruling. Monday's opaque order did not indicate how the justices voted on whether to hear the appeals.
The court's order immediately ended delays on marriage in those states, and couples in six other states should also be able to get married in short order. Richmond's Fourth Circuit Court of Appeals issued their mandate Monday afternoon, clearing the path for same-sex couples to be married.
Herring said clerks in the commonwealth received guidance and are required to issue marriage licenses to any couple who seeks one.
AG Herring says court clerks do not have discretion in issuing marriage licenses to same sex couples. It is mandatory @nbcwashington — Julie Carey (@JulieCareyNBC) October 6, 2014
Gay marriages performed outside the commonwealth will also be recognized. Virginia same-sex couples married in other states can now file joint Virginia tax returns, adopt children together, make medical decisions together and transfer inheritance.
"This is a historic and long overdue moment for our Commonwealth and our country," Gov. Terry McAuliffe said Monday. He said the state would work to update its policies and practices quickly "so that we can give marriages between same-sex partners the full faith and credit they deserve."
Herring echoed that sentiment Monday. "We will continue to fight discrimination wherever we find it, but today, we celebrate a moment when we move closer to fulfilling the promise of equality ignited centuries ago in Virginia, and so central to the American experience," he said in a statement Monday.
Virginia's Republican House of Delegates Speaker William J. Howell said that the court's move sidelined Virginians. "Regardless of how one feels about marriage, we should all agree that Virginians deserve to have their voices heard and votes vigorously defended in Court," he said. "That did not happen in this case."
Virginia residents Bob Witeck and Bob Connelly were among those who had hoped to get married this summer, but after the high court put a hold on same-sex unions in August, the two decided to marry last week in D.C. Both say they're excited their marriage will now be recognized in their home state.
"We just missed this historic milestone and of course would have preferred to have our marriage license in the state we call home," Witeck said. "We are thrilled of course that our marriage now will be recognized here in the commonwealth."
But some activists on both sides of the same-sex marriage debate said the Supreme Court should have taken up the appeals. The justices have an obligation to settle an issue of such national importance, not abdicate that responsibility to lower court judges, those activists said.
Gay marriage advocate Evan Wolfson, president of Freedom to Marry, called on the high court to "finish the job," saying the court's move "prolongs the patchwork of state-to-state discrimination and the harms and indignity that the denial of marriage still inflicts on too many couples."
Opponent Ed Whelan, of the Ethics and Public Policy Center, also chastised the court. He said it is hard to see how the court could eventually rule in favor of same-sex marriage bans, after having allowed so many court decisions striking down those bans to remain in effect.
Two other appeals courts, in Cincinnati and San Francisco, could issue decisions any time in same-sex marriage cases.
Judges in the Cincinnati-based 6th Circuit who are weighing pro-gay marriage rulings in Kentucky, Michigan, Ohio and Tennessee, appeared more likely to rule in favor of state bans than did the 9th Circuit judges in San Francisco, who are considering Idaho and Nevada restrictions on marriage.
Copyright AP - Associated Press