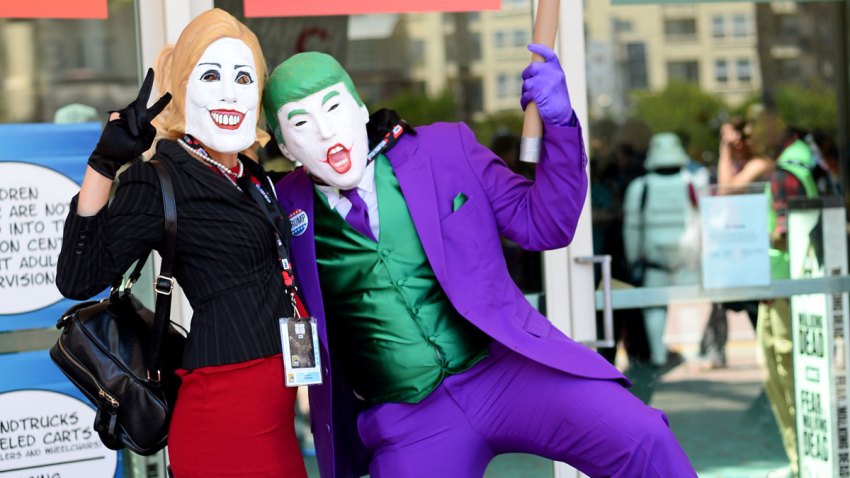 Superheroes have dethroned princesses this year as the most popular Halloween costumes for both kids and adults.
According to the National Retail Federation's Halloween Consumer Top Costumes Survey, conducted by Prosper Insights & Analytics, the 11-year reign of princesses is over.
"This is definitely influenced by the increase of superhero and action movies that were released this year, and, of course, the very popular Pokemon movement," said Ana Smith, NRF's media relations senior director.
"Batman v Superman: Dawn of Justice," "Deadpool," "Captain America: Civil War," "Suicide Squad" and "X-Men: Apocalypse" were among the popular superhero movies in theaters this year.
The survey was conducted among 6,700 consumers from Sept. 6-13 nationwide, said the NRF. Prosper Insights & Analytics found that 171 million Americans plan to celebrate Halloween this year, spending an average of $82.93 up from last year's $74.34. Sixty-seven percent of Halloween celebrants are planning to purchase a costume this Halloween, spending a total of $3.1 billion. Overall spending on the spooky holday is expected to hit $8.4 billion.
Smith said this prediction is due to a "healthy economy" which implies that consumers have extra money they're willing to spend.
"[Costume trends] depend on what happens in the year leading up to Halloween," Cathy Bunter, manager of Fantasy Costumes in Chicago told NBC. "Every year is a little different."
Bunter said among the most popular costumes at the store are those inspired by the 2016 presidential election and the Broadway musical "Hamilton." The Willy Wonka" costume is also in high demand, following the death of actor Gene Wilder earlier this year, she said.
Clown masks, Bunter noted, are more popular than ever, despite the creepy clown sightings and pranks terrifying people across the country. The recent "clownpocalypse" has had school districts and universities advising against the costume on campuses. Nationwide, local authorities have suggested passing on the clown garb for Halloween this year.
Target said it has pulled all of its clown masks and costumes from stores and website because of the "sensitivity" to the recent "crazy clown" scare, NBC's "Today" show reported.
At Hollywood Toys and Costumes in Los Angeles, Jesus Delgadillo said he also noticed an increase in customers looking for political getups. Delgadillo said the store sells Hillary Clinton and Donald Trump wigs and masks, including the GOP candidate's 'Make America Great Again' caps.
DC characters from the Suicide Squad and creepy clown masks are among the most popular costumes this year in the Los Angeles store, as well as in New York's costume shop Abracadabra.
And since the end of the second presidential debate, costumes mimicking audience member Ken Bone are likely to pop up, too. His imitators can be spotted with red cable-knit sweaters, khakis, black specs and thin brown mustaches. But Ken Bone-wannabes might need to move quicker to grab the red IZOD sweater he wore to the debate. It is reported to be already sold out on Amazon.
Not on the list of top Halloween costumes in 2016, but worth considering, is the "Adult T Rex Inflatable Costume - Jurassic World." Two people were caught on camera prancing around in dinosaur costumes on a Florida beach as Hurricane Matthew approached.
Take a look at the most popular 2016 Halloween costumes, according to the NRF:
Children (under 18):
Action/superhero
Princess
Animal
Batman character
"Star Wars" character
TIE: witch and DC superhero (excluding Batman)
"Frozen" character (Anna, Elsa, Olaf)
Marvel superhero (excluding Superman)
Zombie
Spiderman
Adults (18-34):
Batman character (Batman, Harley Quinn, the Joker)
Witch
Animal
TIE: Marvel superhero (Deadpool, Spiderman) and DC superhero (Wonder Woman, Superman)
Vampire
Video game character
Slasher movie villain (Freddy, Jason, Michael Myers)
Pirate
"Star Wars" character
Zombie
Adults (35+):
Witch
Pirate
Political (Trump, Clinton)
Vampire
Batman character (Batman, Catwoman)
Animal
TIE: DC superhero (Superman, Wonder Woman, excluding Batman) and "Star Wars" character
TIE: ghost and zombie
Scary costume
Marvel superhero (Iron Man, Hulk, Spiderman)