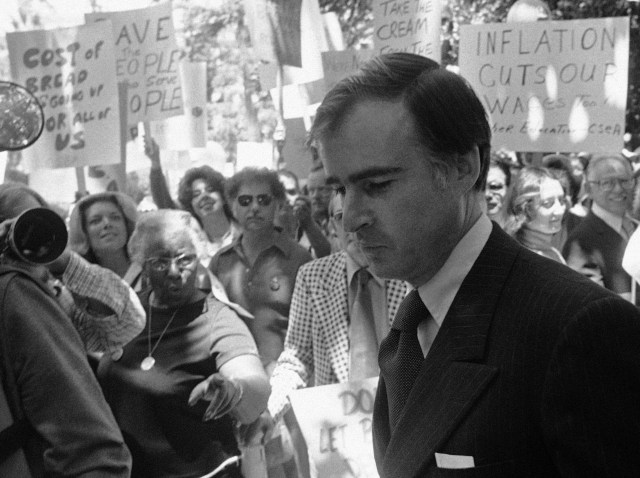 Jerry Brown says he's going to bring Republicans and Democrats in the leadership together. Meg Whitman's campaign has pointed out that it wasn't always Kumbaya in the legislature during Brown's time.
This is much ado about nothing. (It says here that no governor can bring together Republicans and Democrats in these polarized, partisan times, so it's not worth worrying about). And Brown's past record with the legislature is mixed, according to multiple accounts. He got much accomplished in his first term, when he was in Sacramento more and focused on his job. During his second term, when he ran for president and for the U.S. Senate, he didn't seem to interact much with the legislature, at least according to a reading of his mail, which is on file at USC.
That lack of engagement frustrated many in the legislature, according to those archives. One of the best examples of this frustration -- and certainly the funniest -- is a letter to Brown from Assemblyman Water M. Ingalls, the powerful chairman of the Assembly Committee on Transportation. It was dated Dec. 15, 1980, and is among the most sarcastic missives I've ever seen written from one public official to another. (The LA Times obit of Ingalls, who represented Riverside County and battled with Caltrans for years, described him, accurately as "caustic").
The letter starts by praising Brown -- completely sarcastically -- for proposing a 150-mph bullet train. Ingalls cites studies that show such a train was prohibitively expensive (it remains so even now 30 years later, though there's been a bond passed and intensive activity to pursue it). Ingalls was furious at Brown for talking about trains at the same time the governor was working to stall new construction and reduce maintenance on the state highway system.
The letter concludes --- in sarcasm:
"Jerry, keep those good ideas coming. I have always maintained that for California to maintain its image that we need a forward-looking Governor, somebody with a keen interest and sense of the future. Jerry, you perform so well when it comes to the future, it almost seems as if you are always there. And I can relate to your position of non-involvement with today's problems. After all, California has such depth and breadth of highly trained and skilled professionals working at all levels of government to solve the almost overwhelming array of problems besetting transportation today that you must think you do not have to be involved in the solution. I understand.
"Stick to the future, Jerry. That is where you belong."