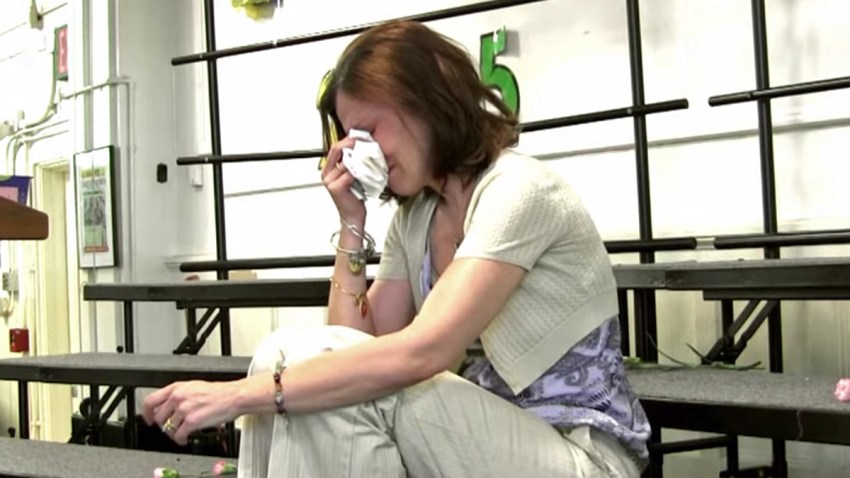 A moving video of a New York City elementary school chorus dedicating a song to a teacher battling breast breast cancer has gained the attention of the country music star who originally recorded it.
Staten Island's renowned P.S. 22 chorus serenaded teacher Adriana Lopez with Martina McBride's "I'm Gonna Love You Through It" in their last performance of the school year. Lopez was recently diagnosed with breast cancer, according to the YouTube page where the video was posted Wednesday.
"P.S. 22 has a ritual where the last song of the year after the last practice, which is today, I always like to sing a song with the chorus," chorus director Gregg Breinberg says in the video before launching into the song. "But this year, we thought it would be a little extra special since we are so inspired by your fighting spirit, that we wanted to give something back to you,"
As the first notes of the song play, Lopez, seated on a set of bleachers nearby, immediately begins tearing up. When the children launch into the chorus, earnestly singing, "When you're weak, I'll be strong / When you let go, I'll hold on," Lopez begins to sob.
After the performance, Lopez said through tears, "Thank you for this special moment. It was wonderful. It's not easy but I will get through it because I have wonderful friends at this school."
The song, released in 2011, has become something of an anthem for breast cancer survivors, according to The Tennessean. It is written from the perspective of someone supporting a loved one through breast cancer.
The video of the P.S. 22 chorus' performance was posted on YouTube Wednesday and quickly made its way back to McBride, who tweeted: "Music is so powerful and I am blessed to have been given this song. Thanks PS 22 Chorus and much love to Adriana Lopez."