From day care providers to school bus drivers, California regulations require fingerprints and extensive criminal background checks for almost any worker who may be left alone with kids. But those same requirements do not apply to ride-hailing apps like Uber and Lyft, which have become popular with teens.
To help keep kids safe, the state's Public Utilities Commission relies on the companies to enforce their own policies that prohibit drivers from picking up underage riders traveling alone.
But as the NBC Bay Area Investigative Unit uncovered, those rules are ignored every day, potentially putting thousands of kids at risk.
[[472677323, ]]

One Peninsula teenager said she learned about the risks firsthand during an Uber ride home last February. She said her driver made sexual passes after she told him she was only 16.
"He started randomly asking me weird sexual questions," she said. "He was asking me if I was a virgin; if I wasn't. How old I was when I lost my virginity."
She asked NBC Bay Area to hide her identity out of fear of further harassment. She said she tried to ignore the driver's questions until he pulled over on the freeway and asked her to move into the front seat. Feeling alone and scared, she complied.
When the driver finally reached her home the teen said his last words to her made her stomach turn.
"He's like, 'Is it wrong that I have a boner right now,'" she said, "and he looked down at his pants and it was really out there. It was disgusting."
When she contacted Uber the next morning, the company apologized and refunded her fare. Then Uber kicked her off the app, citing customer terms of service that requires all riders to be at least 18 to sign up or ride alone.
With no access to her account, she had no idea who allegedly harassed her and whether he continued to drive.
San Mateo Police Sgt. Amanda Von Glahn said investigators couldn't find him either. Uber, like many companies, requires a subpoena before it will release a driver's name to law enforcement. But Von Glahn said police could not obtain a search warrant because the teen's allegations amount to a misdemeanor and not a felony.
"It's frustrating that we can't take that next step," she said.
The teen and her family are now suing Uber, citing "negligent hiring and supervising." But the company contends that the driver is an independent contractor, not an employee. As part of the lawsuit, Uber revealed the driver's name in court last month, and police are now investigating.
Uber declined an interview request but pointed to its guidelines, stating customers must be at least 18 to sign up or ride alone. A company spokesman said drivers and riders who violate the guidelines "risk losing access" to Uber.
Uber's main competitor, Lyft, also prohibits unaccompanied minors from using the platform and encourages drivers to cancel rides from kids traveling alone. Those in violation can be "permanently banned," a Lyft spokesperson told NBC Bay Area.
PROTECTING KIDS
The Peninsula girl's story is just one of a string of claims from teenagers who allege they were sexually harassed or assaulted while using a ride-hailing app.
Both Uber and Lyft prohibit drivers from picking up minors as part of a compromise with the California Public Utilities Commission. The CPUC requires ride-hailing companies that primarily transport kids to fingerprint their drivers and conduct expensive criminal background checks that include searching child abuse records.
Uber and Lyft fought against imposing those mandates to their background checks, arguing that it's not necessary because their apps are meant for adults. The CPUC relies on the companies themselves to enforce the policies prohibiting unaccompanied minors from using their services.
But Joanna McFarland, the founder of HopSkipDrive, a ride-hailing company designed specifically for kids, said she believes every driver who picks up kids should be fingerprinted.
"When driving kids, the bar is higher," McFarland said, adding, "We have driven hundreds of thousands of children. I think given the scale of several rideshare companies, it's certainly possible they are driving vast numbers of unaccompanied minors."
LYFT AND UBER AS THE NEW SCHOOL BUS
While Uber and Lyft guidelines say drivers aren't supposed to transport kids, NBC Bay Area found some drivers are breaking the rules. The Investigative Unit went undercover near schools and malls across the Bay Area and recorded more than a dozen ride-hailing drivers willing to take underage riders.
NBC Bay Area spoke with one man who drives for both Uber and Lyft who turns down ride requests from minors up to 10 times a week. Mike told NBC Bay Area that he suspects the companies are turning a blind eye to the growing number of kids using their apps and the drivers willing to take them.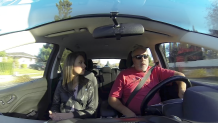 "It just takes one time, one incident, and it's a tragedy," Mike said. "Regulators need to make sure riders and drivers get the education that this is not acceptable."
CPUC STRUGGLES TO REGULATE RIDE-HAILING
Commissioner Liane Randolph expressed concern in 2016 that rideshare companies "may be transporting unaccompanied minors." The CPUC is now considering whether additional regulations are necessary, but hasn't taken any concrete action.
Nick Zanjani, the head of the agency's Consumer Protection and Enforcement Division, said the commission intends to debate how to best protect minors using ride-hailing apps in upcoming meetings.
"I think it's a great idea to tee this important issue up in the context of the proceeding," he said. "I'm looking forward to seeing the comments that are received and seeing what rules and regulations we can develop."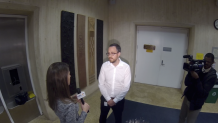 In the meantime, Uber and Lyft told NBC Bay Area they encourage drivers to report underage riders to their 24-hour support lines so they can take appropriate action. Lyft will not penalize drivers for canceling minors, according to the company. Last week, Lyft sent an alert to drivers reminding them to decline underage riders.
Mike said it was the first alert he received from the company since he started driving a year ago.
If you have a tip for the Investigative Unit email theunit@nbcbayarea.com or call 888-996-TIPS. Follow Liz on Facebook and Twitter.