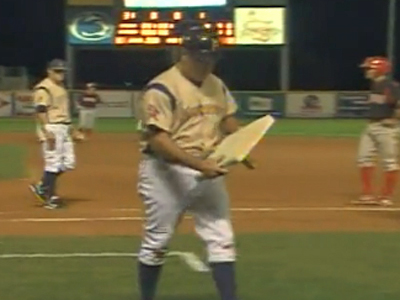 Single-A manager Gary Robinson made the most of ejection Friday night in Happy Valley.
The State College Spikes skipper channeled a combination of Terrell Owens and Larry Bowa when he got the boot from home plate umpire Roberto Ortiz during a New York-Penn League game.
The ejection was nothing out of the ordinary to start with as Robinson and Ortiz argued following a run being forced home by a controversial hit batter call. It appeared the ball might have glanced off the bat rather than the batter's arm.
U.S. & World
Robinson was returning to the dugout when something he said to Ortiz made the ump pull the trigger and toss the Pirates-organization manager. That was when Robinson went utterly berserk. (Go to about 1:20 in the video to see what happened next.)
Here is a great description care of David Brown of Big League Stew:
Robinson immediately return to the field in a frenzy that included yelling, screaming, kicking dirt on home plate, covering home plate with dirt using his hands and kicking dirt on the umpire.

Robinson then jogged to first base and pulled it out of the ground. Was he going to have a Lou Piniella moment and throw it any old place?

Better. Robinson instead reached inside the front of his jersey and pulled out a pen -- like the kind any manager would use to make notations on a lineup card -- and he signed the bag.

Not waiting for an eBay auction, Robinson walked toward the stands and handed the souvenir to a family sitting in the second row. Soon, 13-year-old Dan Kozar would raise his trophy in triumph.
You gotta give Robinson credit. He manages in the Pirates organization – possibly one of the worst in baseball – and his team is middling four games below .500 in the NYP League, so this might have been the only way he, or his team would ever make national headlines.
Congrats on that Mr. Robinson -- just be prepared for the fine.