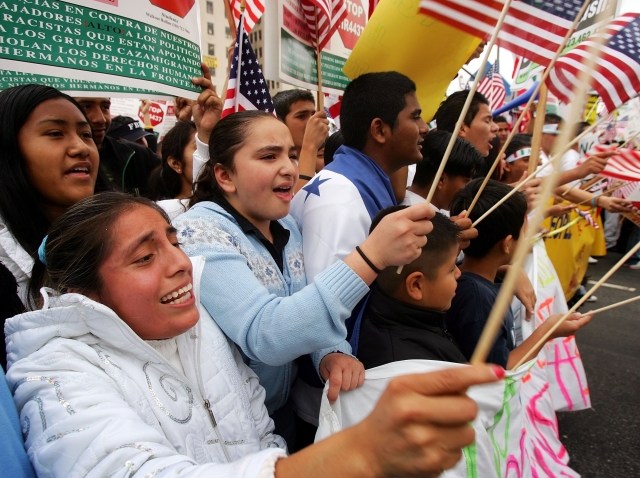 Should children born in the United States to illegal immigrants continue to be entitled to U.S. citizenship?
A sizable bloc in the House of Representatives opposes automatic citizenship for native-born children, and the congressman representing California's 52nd District is talking up that message with his constituents.
"It takes more than just walking across the border to become an American citizen," U.S. Rep. Duncan D. Hunter, R-El Cajon, told a Tea Party gathering in Ramona on April 24. "It's in our souls, not just walking across the border."
Hunter made the remark in response to this question from the audience: "Do you support deportation of natural-born American citizens that are the children of illegal aliens?"
Replied Hunter, to whistles and shouts of approval: "I would have to, yes."
Hunter is among 91 co-sponsors of H.R. 1868, the so-called "Birthright Citizenship Act," which would end automatic citizenship to native-born children whose parents are illegal immigrants.
Introduced last year, the bill has not proceeded beyond the House Subcommittee on Immigration, Citizenship, Refugees, Border Security and International Law.
"It's a complex issue," Hunter said to his audience during the Q&A, which was recorded and posted to YouTube.
"You can look and say, you know, 'You are a mean guy. That's not a humanitarian thing to do,'" Hunter said. "We simply cannot afford what we're doing right now. We just can't afford it. California's going under."
Hunter said the country spends between $10 and $20 billion on illegal immigrants.
"it's health services, it's education and jails.," he said. "We just can't afford it any more. That's it."
Hunter's remarks have drawn sharp retorts from a prominent Latino political commentator and columnist.
"Duncan Hunter's remarks that were shown on YouTube reflect an ignorance of the Constitution and the law of the United States since 1789," says Raoul Lowery Contreras, a Del Mar Heights resident who identifies himself as a lifelong Republican and Constitutionalist.
In an e-mail interview Wednesday, Contreras said the 14th Amendment, which confers citizenship on children born in the U.S., "is not a whim of Congress. It is set in concrete in the Constitution and can not be changed except by an amendment passed by super majorities in the Congress and the states."
Of the co-sponsors of the Birthright Citizenship Act, Contreras said, "Being wrong reflects on their ability to comprehend how our system of government works. The words are clear."
Contreras predicts that should the measure someday become law, it quickly will be struck down by way of a federal court challenge.