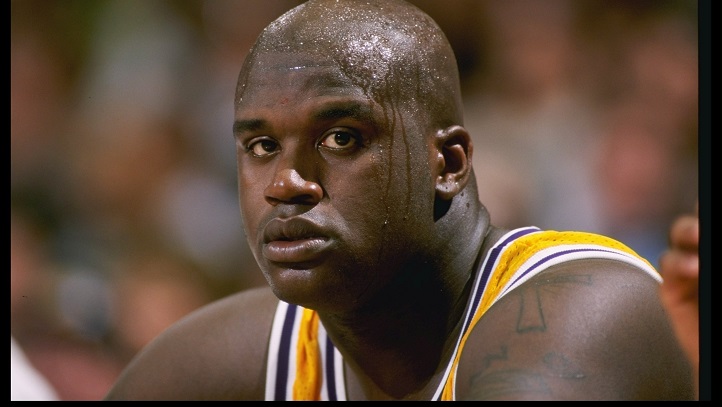 Shaquille O'Neal is getting a statue outside of Staples Center. O'Neal will, quite literally, hang in statue form alongside fellow Lakers greats Kareem Abdul-Jabbar, Earvin "Magic" Johnson, Jerry West and play-by-play commentator Chick Hearn at Star Plaza at LA Live in downtown Los Angeles..
Only in Holywood. @SHAQ finds out on @jimmykimmel Lakers will erect statue of him outside Staples, sees rendering. pic.twitter.com/ysY0FdNMnA — Brad Townsend (@townbrad) January 28, 2016
The statue features the former Los Angeles Lakers center throwing down a powerful and monstrous slam dunk, which would have probably been described by the Hearn. In his prime, "Shaq" was arguably the most dominant player in the history of the NBA, as the league struggled to officiate and adapt to the the 7-foot 2-inch behemoth's aggressive, attacking style of play.
Shaq: I love Jeanie. I love this organization. I love this city. I love this building." — Mark Medina (@MarkG_Medina) January 26, 2016
To go along with all the success on the court, O'Neal managed to show off his larger than life personality during his time in LA. O'Neal made hit records, though his acting did not exactly measure up. Memorably, "Shaq" even grabbed the microphone and turned a Lakers' championship celebration into a rap concert with Mark Madsen acting as the video girl.
Anyhow, the statue looks incredible. The artist's depiction shows O'Neal hanging from a second-level as he completes an emphatic dunk that would likely draw a famous call of "Throw it down big man! Throw it down!" from former NBA commentator Bill Walton.
ABC Host Jimmy Kimmel revealed the design of the statue to O'Neal, and the 43-year-old center could not stop smiling from ear-to-ear upon being told. Earlier in the segment, O'Neal had announced that he would enter the Hall-of-Fame as a member of the Lakers, if he were to be selected. O'Neal's inclusion is a near certainty given the career he put together, which included three titles in his first three years at Staples Center.
When shown the model and told the news, O'Neal repeatedly asked, "Seriously?"
Kimmel revealed that the Lakers had asked him to present the news, and that no hoax was in play. Ramona Shelbourne of ESPN, which is owned owned by ABC's parent company Disney, confirmed the story with Lakers president Jeanie Buss.
Jeanie Buss on Shaq's statue outside of Staples Center. pic.twitter.com/YAfe4E7mET — Ramona Shelburne (@ramonashelburne) January 28, 2016
According to Buss, the statue will be revealed during the 2016-17 NBA season.
@SHAQ Excited about unveiling your statue next season! Thanks @jimmykimmel for sharing. #Lakers pic.twitter.com/sRbsnwwDW7 — Jeanie Buss (@JeanieBuss) January 28, 2016