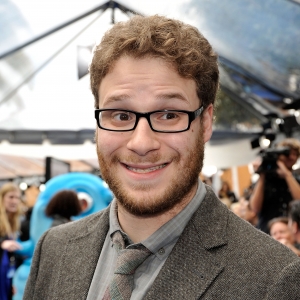 Seth Rogen is high demand these days. The actor has three movies opening in 2009 – and even Lindsay Lohan is asking the "Monsters vs. Aliens" star to call her back.
Access Hollywood'sShaun Robinson caught up with the actor at the junket for his new Dreamworks animated movie.
VIEW THE PHOTOS: Lindsay Lohan
"A lot of people would say your career right now is on fire," Shaun told Seth.
"Ya maybe. We'll see… It's going pretty good. I'm very thankful," he said.
VIEW THE PHOTOS: Hollywood Hijinks With Funnyman Seth Rogen
Though he might be landing role after role, according to Seth, he can still lead a fairly normal life.
"I can go everywhere without getting recognized," he explained. "You know, people don't really [recognize me.]"
Mainly due to his recent break up, the actor revealed.
VIEW THE PHOTOS: The Apatow Gang — Ferrell, Rogen & The Rest
"Ever since me and John Mayer stopped dating, the floods of paparazzi stopped following me around so," he joked. "So, that was a good move I think."
Seth also cleared up a report that Lindsay Lohan had been calling him about a possible project together.
"I actually asked my agents and, no. No one [from Lindsay's camp] has tried to contact us." Seth told Access. "I would call her back. If it was a work-related thing then why not, you know?"
Seth might not be getting calls from Lindsay, but he's being called upon to play a super hero in the upcoming "Green Hornet" movie.
"Yeah it's happening. Were making it," Seth said. "Michel Gondry is directing it, 'Eternal Sunshine of the Spotless Mind,' he's a great guy. He's a true visual genius. And it's exciting. We're going to make it. It's happening!"
Related Content from AccessHollywood.com:
PLAY IT NOW: Exclusive Behind The Scenes: Reese Witherspoon In 'Monsters Vs. Aliens'
PLAY IT NOW: Behind The Scenes: Seth Rogen's Playboy Cover Shoot

MORE ACCESS ON THESE TOPICS: Seth Rogen - John Mayer - Lindsay Lohan - Access Hollywood - Shaun Robinson

Copyright NBCAH - Access Hollywood