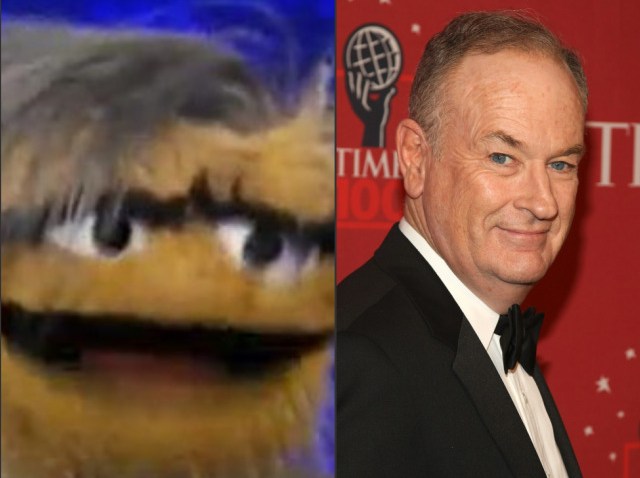 Bill-O meet Spill-O.
Sesame Street's newest character Spill O'Reilly debuted on "The O'Reilly Factor" Tuesday night, and vowed to transform the veteran Fox News host's no-spin zone into a "no-spew zone."
"I want you to know as a proud, dirty sock-waving grouch, I can tell you this: We grouches are totally unbiased," Spill said, weighing-in on criticism that PBS had unfairly mocked O'Reilly's network.
Sherrie Westin, the executive VP of sesame street workshop, said Spill-O would join fellow anchors Walter Cranky and Dan Rather-Not on Sesame Street's "Grouch News Network."
The move comes after some TV viewers criticized the long-running educational show for referring to a fictional "Pox News" network as a "trashy news show" in a 2-year-old skit.
After the episode came to O'Reilly's attention earlier this month, the famously bombastic host vowed to ambush a grouch.
A Sesame Street spokesperson defended the skit as a "parody" at the time, though the show's ombudsman later chastised producers for including the "Pox News" reference.
On Tuesday, Westin said the "highest praise" one could earn from a grouch was "to be trashy."
Spill O'Reilly also tried to assure his namesake that grouches never mean any harm.
"We can't stand anybody," he said. "You all drive us crazy."
Spill's advice to people of all "political persuasions": scream!
"Oh, and remember to buy my new book, 'A Stinking, Rotting, Pile of Grouchiness,'" he said.
"You're kind of in peoples' faces," Bill O'Reilly observed.