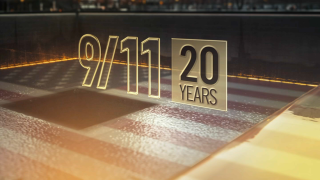 Ceremonies are planned around San Diego on Saturday to honor those who lost their lives in New York, Washington and Pennsylvania on Sept. 11, 2001.
USS Midway Museum Memorial, San Diego
FDNY Retirees of San Diego, the USS Midway Museum, Wounded Warrior Project, National City Fire Department and San Diego Fire-Rescuw will host a 9/11 memorial on the USS Midway at 2:30 p.m. on Saturday.
Access to the Midway for this event is free and open to all who wish to honor the heroes from that time. Following the memorial service, attendees, family and friends are invited to a free dinner reception at the San Diego Firehouse Museum.
9/11 Heroes Run 5K, San Diego
The 9/11 Heroes Run 5K is being organized by the San Diego Triton Ruck Club and welcomes runners, ruckers and walkers of all levels, ages and fitness experience to honor the heroes of 9/11 and those who've served our nation since.
The race kicks off at Rancho Bernardo High School, Saturday at 8:30 a.m.
AmpSurf CA 9/11 Memorial Paddle Out, Oceanside
On Saturday at 10:45 a.m., AmpSurf will hold its annual 9/11 Paddle Out, honoring those who lost their lives, those who have passed defending our freedoms both overseas and at home, and those who live on, carrying the scars of sacrifice.
All are invited to attend on-shore or in the water. Those going in the water must bring their own surf gear.
Patriot Ride 9/11, San Marcos
The North County Indian Motorcycle dealership is inviting riders to honor 9/11and join them for their Patriot Ride on Saturday.
Riders will leave from North County Indian at 9:15 a.m. and ride together to Mount Soledad. After heading back to North County Indian Motorcycle, guests are invited to stay for some free grub.
Other Events
An Evening With Heroes, Chula Vista Elite Athlete Training Center at 2800 Olympic Pkwy, Chula Vista. Tickets are $150
Rotary Club 9/11 Commemoration at the Hotel Del Coronado's Crown Room at 8 a.m. All are welcome
Remembrance Ceremony in Fallbrook at 3 p.m. on Saturday at Fire Station 1 at 315 Ivy St.
Remembrance Ceremony, National City Fire Station 34 at 343 E. 16th Street. The event begins at 8:30 a.m. and can also be streamed on the National City Firefighters Local 2744 Facebook page
The city of Imperial Beach will host a 9/11 memorial ceremony is planned at 6:45 a.m. at City Hall.
Oceanside's police and fire departments will hold a remembrance ceremony at the Junior Seau Oceanside Pier Amphitheatre, which will include a ceremonial "last mile'' walk. Staging begins at 8:30 a.m. at the Civic Center flagpole at City Hall. A flag salute, playing of "Taps'' and remarks by officials will be part of the ceremony.
The 20th Anniversary Climb to Remember will have participants scaling the Naval Base San Diego Beacon Tower by climbing 864 stairs, or completing two towers for a total of 1,728 stars.
Coronado will be hosted by Rotary District 5340 at 8 a.m. at Hotel del Coronado. More than 100 first responders will be recognized during a commemoration, with representation from police, fire, EMT, health care and military expected.
Escondido, the Brothers of 6 group will host a Patriot Day Remembrance Dinner at 5 p.m. at American Legion Post 149. All proceeds will go to California wildfire relief.
Fallbrook, the North County Fire Protection District, the Fallbrook Chamber of Commerce and the American Legion will hold a 9/11 memorial event at 3 p.m. at Fire Station 1, which will include a guest speaker, bell ceremony and color guard.