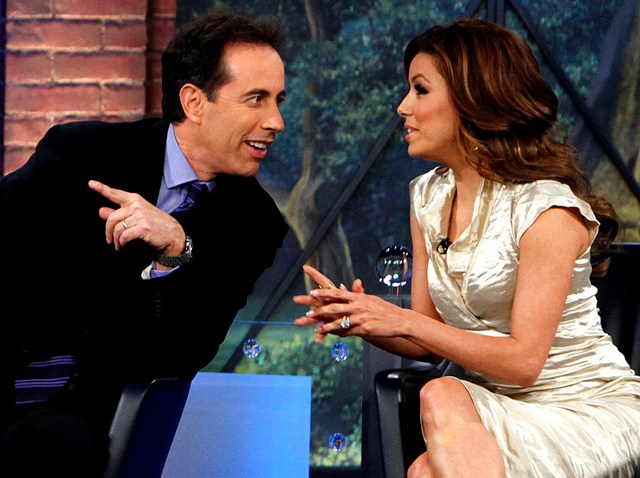 "Seinfeld," famously, was a show about "nothing" – if nothing can be defined as four self-absorbed misfits mining the mundane for comedy gold.

Some dozen years after the program left the air, Jerry Seinfeld is back on TV, more or less regularly, as a sometimes panelist on NBC's "The Marriage Ref" – another show that finds humor in the ordinary.

The program, produced by Seinfeld, stars comedian Tom Papa in the title role as he arbitrates real-life marital disputes with the help of an array of wise-cracking celebrities.

Like "nothing" before it, "The Marriage Ref" doesn't fall into easy categories. It's filled with one-liners, but it's not a sitcom. It deals with real folks, but it's not a reality show. Marital disputes are aired, but it's a far cry from "The Jerry Springer Show." The couples get prizes, but it's not a game show.

What "The Marriage Ref" is, judging from Sunday half-hour preview night's sneak preview, is funny. That's due, at least in part, to Seinfeld and his celebrity pals. But the real stars here are the couples.

That Seinfeld is basing a show around marriage says a lot about the road he's traveled since his hit sitcom ended. "Seinfeld" wasn't exactly pro-commitment – George Costanza's fiancée died, to his great relief, from licking tainted wedding-invitation envelopes. It took endless prodding to get Jerry to visit friends who were proud new parents ("Jerry, you've got to see the baby!").

But Seinfeld is now a 55-year-old father of three. His changing standup act reflects his mid-life domestic standing, as does his biggest post-"Seinfeld" project, "Bee Movie," a family friendly animated flick. Seinfeld's comedy always has been observational – it's just that his focus these days is family (not that there's anything wrong with that).

It's just good to have Seinfeld back on TV. We got a reminder of how much he's been missed during the recent mock "Seinfeld" reunion staged on "Curb Your Enthusiasm," the largely improvised HBO comedy staring "Seinfeld" co-creator Larry David.

David – who gave us Frank and Estelle Costanza – is set to be among the rotating guest panelists. He knows from marital woe, as do fellow panelists Alec Baldwin and Madonna.

The couples, at least on the first show, have far less serious – but funnier – problems than the celebrities. One couple fought over the husband's plans to stuff his beloved dog and place the petrified canine in a place of honor in their home. Another couple bickered about the husband's demands for a stripper pole in the bedroom.

Seinfeld, Baldwin and Kelly Ripa got off some good quips. (Seinfeld was supportive of the stripper-pole scheme, but noted that ultimately, "It's still one guy in the dark, clapping.")

The most memorable moments, though, came from the couples, who seemed like characters out of, well, an episode of "Seinfeld." (When the husband tells his wife he wants the stripper pole, she retorts: "People in hell want ice water, but they don't get it.")

Some critics, the New York Daily News notes, have been less than kind, though others, including The New York Times, have offered more positive notices. We think "The Marriage Ref" is off to a promising start.

The show begins its regular weekly run Thursday at 10 p.m., so we'll see whether it can sustain the laughs in the hour-long format – with or without Seinfeld.

While more stars are lined up as panelists (Tina Fey, Sarah Silverman and Ricky Gervais are among the scheduled guests), Seinfeld seems content to let the couples be the stars of his new show about nothing – and that's saying something.

Hester is founding director of the award-winning, multi-media NYCity News Service at the City University of New York Graduate School of Journalism. He is the former City Editor of the New York Daily News, where he started as a reporter in 1992. Follow him on Twitter.
Copyright FREEL - NBC Local Media