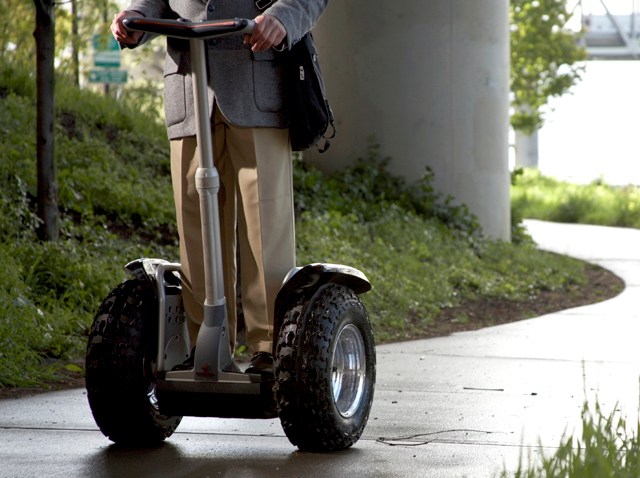 A British businessman, who bought the Segway company less than a year ago, died after riding one of the scooters off a cliff and into a river near his Yorkshire estate.
Jim Heselden acquired the Segway company from its U.S. inventor Dean Kamen in December 2009.
According to the British media, Heselden, 62, plunged into the River Wharfe while riding a rugged country version of the two-wheeled transporter on Sunday.
"Police were called at 11:40 a.m. yesterday to reports of a man in the River Wharfe, apparently having fallen from the cliffs above," a spokesman told The Daily Mail.
A Segway was recovered from the scene. "At this time we do not believe the death to be suspicious," the spokesman added.
Heselden was worth around $265 million and ranked 395th on the Sunday Times Rich List.
Leading philanthropist
On Sept. 18, the Yorkshire Post reported that Heselden had donated $36 million of his fortune to charity, making him one of Britain's leading philanthropists.
Most recently, he gave $15 million to the Leeds Community Foundation, which helps disadvantaged parts of the north of England city.
Heselden himself came from poor beginnings in Leeds and left school at the age of 15 to work in the mines.
He got his break in 1990 when he invented a concertina design for wire cage walls, which are used by the military to protect bases and also for flood protection. The headquarters of his firm, Hesco Bastion, is a short distance from Heselden's childhood home.
Heselden was appreciative of his good fortune, but always remembered his own tough beginnings.
"There are a lot of families out there who are struggling and a lot of youngsters who have grown up without role models and who can't get jobs," he told the Yorkshire Post.
"Life turned out pretty well for me, but I still work in the same area where I grew up and every day I see people who for whatever reason are down on their luck."
Copyright MSNBC - MSNBC