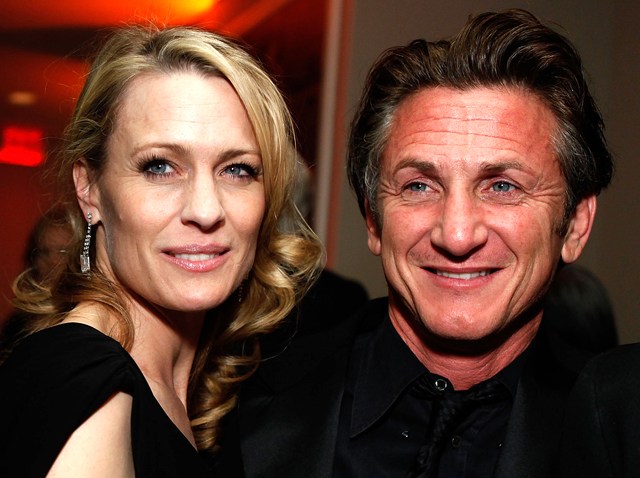 Less than a year after Robin Wright filed for divorce from Sean Penn, the 49-year-old actor says his ex feels like an apparition.
"She is a ghost to me now," Sean told Vanity Fair in its July issue. "We spent all those years together … Now she's just gone."
VIEW THE PHOTOS: Divorce! Break-Ups! Hollywood's Most Famous Former Couples
The former couple, who previously filed for divorce in 2007 and 2009 – but then reconciled – agreed to divide their property and assets and share custody of their 16-year-old son, Hopper Jack.
The Oscar-winning actor told the mag that he has now turned his attention to helping rebuild Haiti after a devastating earthquake rocked the island nation in January.
VIEW THE PHOTOS: They Dated Who?!? Surprising Former Couples!
"There is no exit for me until there is more life than death," Sean told the mag. "I can always see light in any situation. It's just the way I'm made. I'm capable of making foolish commitments. Of being a fool. But I can see the light very clearly in terms of the 'big picture' for Haiti."
According to Sean, many Americans can learn a great deal from the struggles of the Haitian people.
"There is a strength of character in the people who have, by and large, never experienced comfort. That's exactly the character that our Main Street culture lacks and needs in the United States," he added. "In other words, we need Haiti."
VIEW THE PHOTOS: Top 10 Most Expensive Celebrity Divorces
Copyright 2010 by NBC Universal, Inc. All rights reserved.
This material may not be published, broadcast, rewritten or redistributed.
Related Content from AccessHollywood.com:
VIEW THE PHOTOS: Hollywood's Smokin' Hot Couples
PLAY IT NOW: 2009 Oscars Governor's Ball: Sean Penn
PLAY IT NOW: The Women Of Twilight Glam Up For Vanity Fair
More from Access: [ Sean Penn Vanity Fair Former Couples ]
Copyright NBCAH - Access Hollywood