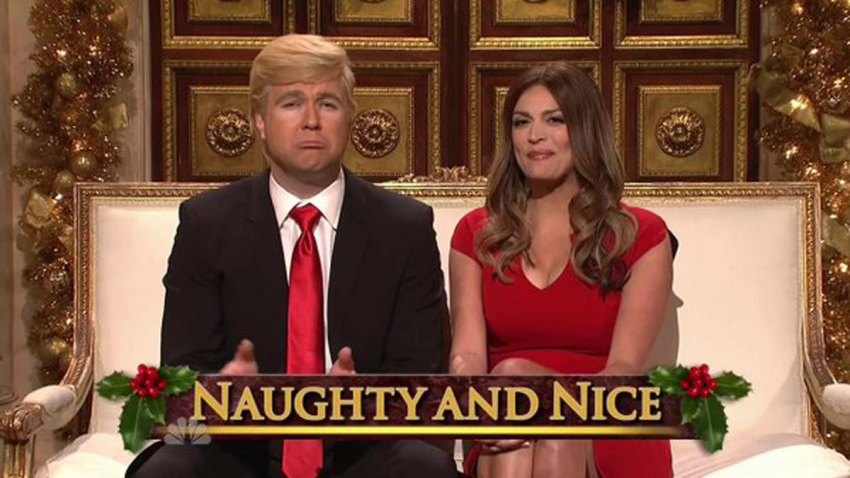 "Saturday Night Live" started off with a message from 'Donald and Melania Trump.'
Trump, played by Taran Killam, wished everyone a Merry Christmas, the Jewish community a Happy Hanukkah. But he had a special message to American Muslims.
"Send me your names," he said, referring to Trump's possibility of a national registry of Muslims.
U.S. & World
The couple then presented their Naughty or Nice list for this year's holiday season.
"Sometimes, it's nice to be naughty," Melania said.
Trump's first name on the list — the polls.
"The polls?" he said. "Very nice. The latest poll has me leading by 20 percent."
Hillary Clinton, who he referred to as "The Nutcracker," was next. The Democratic candidate ended up on the nice list because she called Trump, saying she wished he would win the Republican nomination.
Next on the list, Facebook CEO Mark Zuckerberg, who earned himself a place on the naughty list because he decided to set up a charitable initiative, which would receive 99 percent of his shares in the company.
The final person the two Trumps focused on — Santa.
"I just don't trust anybody who can fly over a wall," Trump said.
Host Ryan Gosling was joined by SNL alum, Mike Myers, in his opening monologue. The two celebrated their Canadian roots with a Canadian Christmas song.
Gosling also played the Scarecrow from West Oz in a spoof of "The Wiz Live!"
Gospel and soul singer Leon Bridges was this week's musical guest.