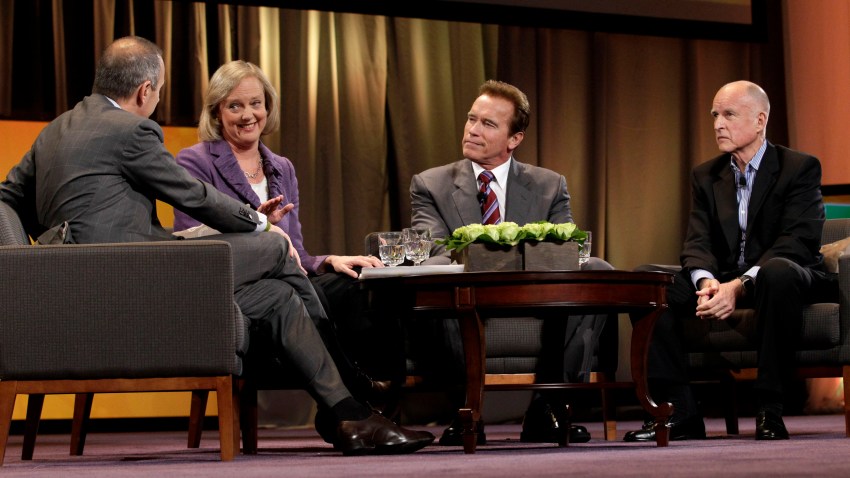 Word is neither wanted to attend. Maria twisted their arms. Now Meg Whitman's campaign may be sorry they accepted while Jerry Brown is glad he did.
On Tuesday, before 15,000 women at Maria Shriver's "Women's Conference" in Long Beach the two candidates for governor ended up on stage with the man whom they hope to replace, Arnold Schwarzenegger. NBC Today Show host Matt Lauer moderated the conversation.
Not much news was made at the outset. Lauer asked what there was about them that voters still didn't know. Both talked about their mothers, how they got started in business and government and how they loved California. But near the end Lauer asked a question that may have decided the election.
"With 6 days left in the campaign, will you promise to stop the negativity" Lauer asked to thunderous applause in the convention hall. "Will you promise to pull your negative TV ads within the next 24 hours?"
At first Brown equivocated. "Negativity is in the eye of the beholder" he responded to booing in the audience, "there is a spectrum".
Whitman seized on the question by talking about the hurt that has come with the personal attacks and the "names that I have been called" during the campaign, "it is no fair to the voters of California." Big applause.
But Lauer wanted a commitment and restated the question to which Brown quickly responded. He had lost the first round and he knew it. It was time to pivot.
"Listen… I will take mine off, no question" he said. " If we do it together no problem, I will do that right now". Big applause. As in an eBay auction the bid just went up.
Whitman's response was probably the correct one politically but it resulted in a bad moment for the short term. While saying she would take down any commercial that "remotely" called into question her opponent's character she said she shouldn't take down the ads "that talk about where Governor Brown stands on the issues."
That didn't sit well with the audience. Brown went in for the kill.
"I have one nice ad where I look in the camera and say what I'm for. You have one ad where you look in the camera, a pretty good ad by the way, we can put both of them on and have all the other ones go off… I will agree to that right now". Big applause.
Whitman was uncomfortable. Jerry piled on.
"I have a positive commercial where you (Whitman) are talking about how great California was 30 years ago… and guess who was governor then?" Thunderous applause. Jerry had won over the crowd and the press as well. Nearly half the reporters in the media tent applauded (many may have been bloggers but I suspect not all).
Schwarzenegger came to Whitman's aid by saying such a move needs to be talked about with strategists.
"I can just see what the campaign advisors are doing in the room backstage, 'Oh… why did we agree to do this!'" he boomed.
Later on Fox News Channel former Bush White House advisor Karl Rove chastised Lauer for the question. "Why do defenders of the 1st Amendment in the media feel it is their role to limit the arguments made in a political campaign?" he argued. "Let the voters decide."
But this may not have been about negative ads. More damaging to the GOP candidate may have been the image of a political newcomer who was not in charge of her campaign and needed counsel in order to make a decision. It may have been a wise move not to get suckered into the agreement, after all she is trailing in this campaign and it would work to Jerry Brown's benefit to get her ads off the air. But whoever negotiated the sit-down with these three men at a women's conference should have their per-diem withheld for the rest of the campaign.