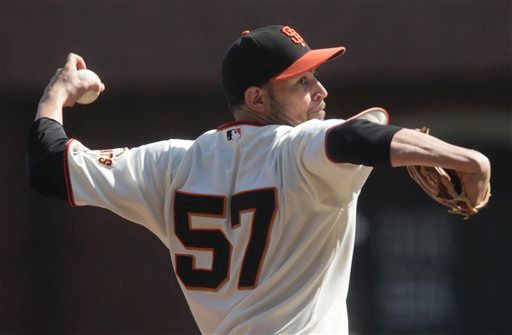 Technically it isn't a must-win game for the Giants, but in terms of momentum and peace of mind for their tortured fans, Sunday's clash with the Braves is kind of a big deal.
And at the center of it all is a lefty who has befuddled opposing batters almost as much as he's befuddled the Giants. Which Jonathan Sanchez will show up in Atlanta?
Will it be the Jonathan Sanchez who tossed a no-hitter last season against the Padres? The Jonathan Sanchez who shut down that same team just one week ago to deliver the Giants the National League West?
Or the Jonathan Sanchez who went 17-24 with a 4.62 ERA in the two previous seasons, and had a handful of erratic moments in 2010?
"It's just another game," Sanchez said. "[I] just need to come out here and play a good game [today], and hopefully we'll win."
Of course, this regular old game could either give the Giants a commanding 2-1 series lead, or push their season to the brink. But if Sanchez knows anything right now, it's how to pitch in pressure situations in October.
Just seven days ago he did what Matt Cain and Barry Zito could not, shut out the Padres for five innings, propelling the Giants to the division title.
"I'm a different pitcher now," Sanchez said after allowing seven earned runs in 11 innings in two starts against the Braves this season.
"The last two times I faced these guys I had trouble with my mechanics. But now I just -- I think I'm right on it."
And you can look past October for proof. Sanchez has been nearly lights out down the final stretch of the season, going 4-1 with a 1.03 ERA in his last seven starts, all when the Giants were fighting for their regular season lives.
The 27-year-old says he will use the same mentality he used to stop the Padres last week, "Just go out there and get people out." The Giants hope he can deliver the same result.