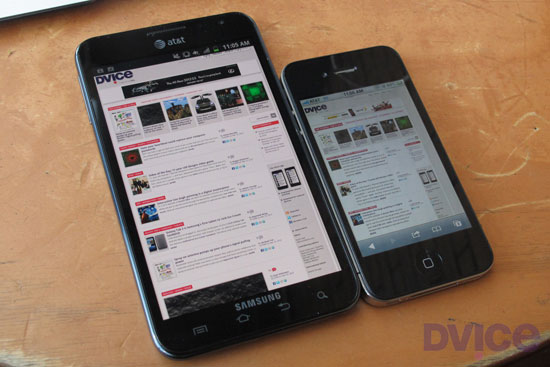 The Galaxy Note has an identity crisis it needs to clear up. On the one hand, it's sort of a mini tablet due to its huge 5.3-inch display (largest of any smartphone on sale) and fancy stylus. On the other other hand, it also functions exactly like an Android smartphone on AT&T's 4G LTE network, meaning you'll be required to get a two-year contract chained to your leg and pay for a voice plan.
Either way, AT&T just let us rub our greasy fingers all over a Note. Read on for our hands-on impressions.
Drop Dead Gorgeous Display
It's impossible to ignore the Galaxy Note's centerpiece — that's the 5.3-inch Super AMOLED display with a 1280x800 resolution that matches those found on large tablets and laptops.
Regrettably, there's really no proper way to describe just how fantastic the Note's screen is. If you're already rocking a smartphone that sports a 720p display such as the LG Nitro HD or Samsung Galaxy Nexus, the Note's screen won't make you skip a beat. But, if you're coming up from an iPhone 4 or anything smaller, the Note's display will knock you off your feet.
Not only does the screen fill up with more content when browsing the Web, but photos look so crisp you can literally see details you normally wouldn't have noticed before. It's like going from a 480p standard definition TV to a 1080p high definition set. The difference is night and day. The only thing to be bummed about is that it's a dust and fingerprint magnet. Be sure to have a microfiber cloth handy. You'll need it.
Not Bad For A Stylus
Remember the Palm Pilot? (Without looking at Wikipedia, that is.) Before capacitative touchscreens paved the way for finger-friendly multitouch and gestures, mobile devices that had touchscreens worked primarily with a stylus.
The iPhone changed all of that in 2007. Steve Jobs famously said after the iOS 4 unveil event, "If you see a stylus, they blew it." He was referring to Apple's competitors.
From what I could tell, the "S Pen" stylus is fairly responsive, but it's not pin-point accurate, which is disappointing after you hear it uses Wacom technology. Samsung did benefit, though: the S Pen is pressure sensitive, allowing different pen thicknesses to carry through when you fancy a sketch. You'll notice that when you start drawing on the S Memo app (you hold the S Pen's clicker and double tap the screen to bring it up, which makes the Note extremely doodle-friendly). For the most part, I had no trouble tapping onscreen elements, jotting down notes or even drawing with it.
With that in mind, is the S Pen really the second coming of the stylus as Samsung's Galaxy Note Superbowl commercial would have you believe?
Frankly, the answer is no. While the S Pen is useful for certain tasks such as note-taking, it's still another extra step between you and your content. The S Pen is more of a complementary input to the Note's standard finger-activated touchscreen. It's there when you need it, and not necessary when you don't. It's like a nice backup.
That said, I imagine if you're even remotely considering the Galaxy Note, you might already love using styli more than most people, and will make more of an effort to reach for it. Of particular interest is that the S Pen feels a tad bit short and plasticky. It would have been nice if Samsung had made the S Pen an extendable one (like the one bundled with the Nintendo 3DS). Samsung does sell an "S Pen Holder" shell that gives the S Pen a little more girth. No pricing on that case has been announced yet.
One Size Doesn't Fit All
Whereas one might blame Apple for telling customers how their devices should work, Samsung's message has always been about giving customers options (sometimes too many). As evidenced by its Galaxy Tab lineup, Samsung has a 7-inch, 7.7-inch, 8.9-inch and 10.1 inch tablet. Compared to Apple's one 9.7-inch iPad, Samsung's caters to a wide range of hand sizes.
The same can be said for the Galaxy Note. It fulfills the spot between a 4.65-inch Galaxy Nexus and a 7-inch Galaxy Tab. It's just another option. If you want a bigger screen, but still want your device to fit into a pocket, the Note is a good consideration.
At the end of the day, it doesn't really matter if the Note is a smartphone or a mini tablet (Samsung reps firmly say it's a smartphone). What matters is if the device fits your needs, and if it's comfortable to use (I've got small hands, so one hand use is tougher for me). What works for me might not work for you and vice versa.
Coming from an iPhone 4 owner, I can honestly say that the Note is worth a look. It's got just enough power to not slow down and is a beauty to read on (I can stare the screen all day long. I'd go blind, but that's all right.)
The Final Word
Yes, you will still look strange holding up such a large device to your head when you're making phone calls, but that's why companies invented earbuds with mics. Or maybe you've just got a really big head or you're Shaq. If any of those apply, then the Note won't feel large at all.
It's pretty snappy with its 1.4GHz dual-core processor and 1GB of RAM. There's plenty of storage (16GB internal; expandable to 32GB via microSD) as well.
Like all Samsung Android products (other than the Galaxy Nexus), the OS is skinned under the company's TouchWiz 4.0 coating. It would have been nice to see Android 4.0 Ice Cream Sandwich make it onto the Note. That would have at least let us install the new Chrome Android browser on it.
Interested shoppers can pick up the Samsung Galaxy Note hits AT&T on Feb. 19 for $300 with a two-year contract. Before shopping, I recommend going to a real store to try this guy out. You'll be shocked at how light and skinny jeans-friendly the Note is.
Via AT&T

Copyright DVICE - DVICE